Triund Trek Dharamshala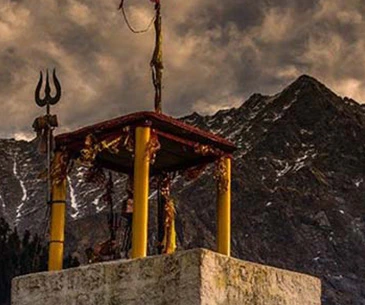 Indian Tours is a leading travel company in the Indian subcontinent that specializes in organized trekking and mountaineering tours. They offer a variety of itineraries that vary from easy to challenging, and their experienced guides will take you on fascinating and eye-opening treks through some of India's most beautiful landscapes. Come explore the Himalayas with Indian-Tours!
About The Triund Trek:
The Triund trek is a short and easy Himalayan trek that takes only two days to complete. It is located in the state of Himachal Pradesh, in the northern part of the country. The trek starts from the town of McLeod Ganj and ends at the Triund Hill. The total distance of the trek is 14 kilometers, and the height of the hill is 9350 feet. The best time to do the trek is from March to December. It has spectacular scenery, with a view of the snow-covered Dhauladhar ranges and Kangra valley. The trail is a little steep at some points, but it is still an easy trek that can be completed by anyone. This trek is the perfect way to get a taste of the Himalayas, without having to commit to a long and difficult trek.
The actual trek of Triund is around 8 to 9 kms that takes around 7 hours to complete, both ways. The initial 6 of which are fairy easy to traverse. The last stretch of 1 to 2 kms is steep, and famously known as the, "22 curves." The Triund trek is a 9 km round trip that takes around 7 hours to complete. The trek starts from McLeod Ganj and takes you through the Indrahar Pass. The views from the top are breathtaking, and you can see the Dhauladhar range, as well as the Pir Panjal range. The return journey takes you back down to McLeod Ganj.
What is the best time to visit Triund for camping?
The best time to visit Triund for camping is during the months of May, June, September, and October. The summer months of May and June will save you from cold weather conditions. September and October are the beginning of winter, so you can expect pleasant weather during this time.
How to Reach Base Camp?
To reach the base camp at Galu, you can either take a taxi or a bus from McLeodganj. The trek from McLeodganj to Triund is around 18 kilometers and takes about 3-4 hours. The trek from here is around 1,100 meters long and is a relatively steep ascent. If you don't want to trek the entire way, ponies and horses are available for hire.
The nearest airport to Triund is Gaggal airport or Dharamshala airport, which is around 18 ks from the base camp. Flights from Delhi and Kullu frequently ply, connecting the two places. You can also take a bus or a taxi from either of these places to reach the base camp.
Quick Facts
| | |
| --- | --- |
| Short Itinerary | Mcleodganj – Bhagsunag – Leta Village – Triund |
| Difficulty Level | Easy-Moderate |
| Total Distance | 14 km |
| Altitude Gain | 2100 m to 2,850 m |
| Nearest Railway Station | Pathankot, PTK |
| Nearest Airport | Dharamshala, DHM |
| Nearest Inter State Bus Station | Dharamshala |
| Nearest Local Bus Station | Mcleodganj |
| Last ATM | Mcleodganj |
| Nearest Medical Facility | Mcleodganj |
| Nearest Hospital | Dharamshala |
Nearby places to visit
There are many interesting places to visit near Triund, such as Bhagsu falls, Namgyal Monastery, and Mcleodganj. Bhagsu falls is a popular tourist attraction for its captivating and refreshing waterfall. Namgyal Monastery is known as the abode of the Dalai Lama, the Tibetan spiritual leader, and is a great place to learn about Tibetan culture. Mcleodganj has several trekking destinations which make it a tourist hub; some of the treks are kareri river trek, the Guna Devi temple trek, and the Indrahar pass trek.
How much does Triund camping cost?
The cost of a triund trek in Dharamshala is Rs. 20,000 for a group of four people. This price includes round-trip transportation from New Delhi, accommodation in Dharamshala for three nights, and all meals during the trek.
How to Plan Your Trek
If you're thinking of traveling to India and trekking, there are a lot of things to take into account before you go. Here we'll outline the basics of planning your trip and give some tips on what to do once you're in Dharamshala.
The best way to organize your trip is by using an online travel planner. These services will help you set up a budget, find the right tour operator, and book your tickets. Once you've done this, it's important to do some research on the area you're visiting. This will give you an idea of what to expect when you get there, as well as what activities are available.
Make sure you have plenty of sunscreens, insect repellent, and water with you on your trek. You'll also need a hat, sunscreen, snacks, and a drink bottle. Make sure you leave enough room in your luggage for clothing layers as the weather can change fairly quickly in India.
Finally, make sure that if something happens while you're away that requires attention, like a medical emergency, you have someone who can contact you easily. This could be someone back home or a friend who is traveling with you.
Know Before You Go for Triund Trek
Before you go on the Triund Trek, there are a few things you should know. First, the trek takes place through an eco-friendly zone, so please do not litter the local sites or campsites. Travelers who litter may be fined. Second, all the activities depend upon the weather. Keep your luggage minimum; the more you carry, the more you hassle. Third, guidelines issued by the state government are to be followed. Social distancing must be maintained. Frequent hand sanitization and the use of a mask is recommended. Please carry a valid ID proof at the time of the activity. Fourth, since it's difficult to provide all the facilities in the mountains, one must not expect luxuries. Electricity may be available only at a few locations. A bonfire would be dependent on weather conditions. In case of bad weather or any Govt restrictions, the campsite location might change to Dharamkot Fifth, children below the age of 7 years are not recommended for Mcleodganj to Triund trek. Sixth, any personal expenses, items of personal nature, meals not mentioned, etc. will not be in part of the Triund trek package. Carry dry snacks/food from home. Carry water bottles Triund Trek Camping Triund Trek Booking
What to Bring on Your Triund Trek
If you're packing for your trek to Dharamshala, be sure to bring a good supply of water and snacks. You'll need to be self-sufficient on the mountain, as there is no public transportation available in the area.
And if you're looking for some ideas on what to bring, here are a few items that are essential for any trek:
Sunscreen
Bug Spray
A Hat
An Umbrella
Wet clothes if you get wet (spare clothes can also be rented in Dharamshala)
First aid kit including bandages, ibuprofen, and antihistamines
Lightweight tent or camping gear (sleeping bag, mats, tents)
Sturdy Shoes or Boots
Multi-purpose tool (hatchet, saw, knife)
What is included in the Triund Trek package?
The Triund Trek Package includes a three-day guided trek through the stunning Himalayan mountains, starting from the town of McLeod Ganj. You will stay in comfortable tents or guesthouses each night, and enjoy delicious local food. Your expert guide will take you on a journey through some of the most breathtaking scenery in the world, visiting ancient temples and villages along the way. The package also includes all transportation and entrance fees, so you can just focus on enjoying your adventure!
What are the benefits of the Triund Trek package?
The Triund Trek package is designed for experienced trekkers who are looking for a challenge. The package includes all the necessary equipment and supplies, as well as a guide who will help you navigate the difficult terrain. The benefits of the Triund Trek package include:
An opportunity to explore the beautiful Himalayan mountains.

A chance to test your limits and push yourself physically.

An adventure that you'll never forget!
Who is the Triund Trek package for?
The Triund Trek package is designed for those who want to explore the Indian Himalayas. It is perfect for those who are looking for an adventure and want to challenge themselves. The trek is also great for those who want to see some of the most beautiful scenery in the world.
How to book the Triund Trek package?
To book the Triund Trek package, please follow the steps below:
1. Go to our website and click on the "Book Now" button.
2. Select the number of people in your group and the dates you would like to travel.
3. Enter your contact information and submit your booking request.
4. Our team will get in touch with you to confirm your booking and provide further instructions.
Tips for a Successful Triund Trek in Dharamshala
If you're considering a trekking trip to Dharamshala, here are some tips to make the experience a success:
Do your research! There are many different types of treks available in Dharamshala, so be sure to choose the one that is right for you. There are also many different trip options, so be sure to read the descriptions carefully.
Pack light! While packing for a trek is important, don't overpack. You'll save money and weight on your bag by bringing just the essentials. This includes food, water, sunscreen, hats and sunglasses, and a first-aid kit.
Make reservations! The earlier you make your reservations, the better chance you have of securing a good spot on a trek.
Be prepared for uphill hiking! Many treks in Dharamshala involve long uphill hikes, so be prepared for this before you go. Bring enough water and snacks to keep you going, and dress appropriately for the weather conditions.
Make friends along the way! Trekking is an amazing way to get close to nature and meet other people from all over the world
Program
( 2 days / 1 nights )
Day1

Mcleodganj to Triund Hill (4-5 hours of trekking)

At 9 AM, you can start your trek from Bhagsu Nag Triund (2875 m).
Start your trek from Mcleodganj. You can reach Bhagusu Na and then hike from Bhagsu Nah. It is a magical experience to walk through dense forests of Oak, Rhododendron and deodar. This alpine meadow overlooks the snow-capped peaks at Dhauladhar. The Kangra Valley can be seen from the opposite side. We will then rest for the night after dinner and star gazing at our beautiful mountain lodge.

Day2

Triund Hill to Snowline and back to Mcleodganj (4-5 hours of trekking)

Get up early and see the sunrise over the majestic mountains and Kangra Valley. The finest thing is to be with your own. If you want to visit Snow Line (5Kms), then leave early in the morning from Triund. Else To reach Bhagsu Nag village, it will take approximately 4 to 5 hours. You can also stop at Lahesh cave on the way. Bhagsu Waterfall will be visible. This is the end of your trek.
Excellent
( Based on reviews )
FREQUENTLY ASKED QUESTIONS
Each trekker is responsible for his/her own safety. Trek organizers, guides, porters will not be responsible for any damage, theft, or loss of goods.
INCLUSIONS/EXCLUSIONS
| | |
| --- | --- |
| INCLUSION | EXCLUSIONS |
| - Basic vegetarian meals(Dinner on day-1 & Breakfast and on day-2) | - Transport from home town to McLeodganj |
| - Accommodation at trekking tents on a twin-sharing basis at the hilltop | - Anything not mentioned in Inclusions |
| - Necessary Permits | - Medical Expenses |
| -Tour Guide | - Any cost arising due to natural calamities |
| - Rooms/Tents (sharing basis) | - Water Bottles |
TERMS AND CONDITIONS
CANCELLATION AND REFUND:
Cancellations prior to 10 days from the start of the trek are entitled to a full refund(excluding the transaction charges)Cancellation between the 9th day and the 3rd day to the start of the trek will have an 80% refund. Cancellation less than 3 days to the start of the trek will have NO refund. For any assistance mail us at: info@indian-tours.in

DISCLAIMER:

This activity is hugely dependent upon weather. The trip may get canceled without any prior notice due to weather or any unforeseen adverse circumstances
GALLERY / PHOTOS