Pangarchulla Peak Trek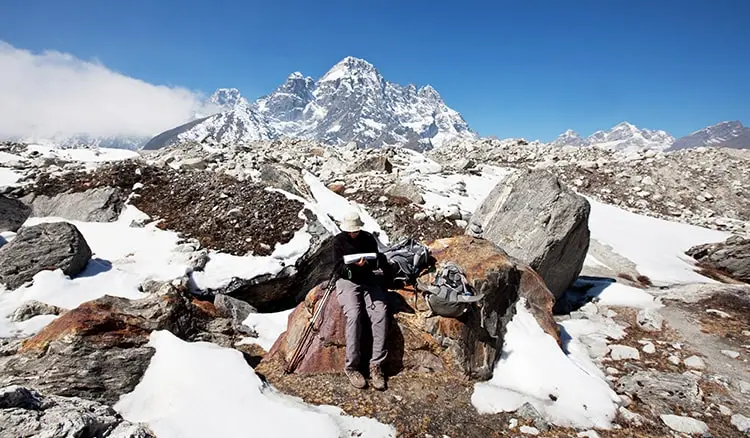 Pangarchulla Trek: Uttarakhand's Undiscovered Dream Destination
This is the ultimate guide to Pangarchulla Trek, a dream destination in Uttarakhand. It provides you with everything you need to know about the trek, including what Pangarchulla Peak is famous for, how to reach there and where to stay overnight! This article will help you decide whether or not this trek is right for your vacation and give you all your necessary details.
About Pangarchulla Peak Trek:
Pangarchulla Peak Trek is a beautiful trek that takes travelers to one of the highest peaks in Garhwal Himalaya. The peak is usually covered with snow during winter, which makes it a perfect time to go on this adventure. The paves are swaddled with alluring lush greenery, dense jungles, and pristine snow-capped landscapes around. A close-up look of the Garhwal region can be discovered through this trek with the sunshine falling on its summit. The trek is usually easy and perfect for beginners, and it has many beautiful sights to see including Nanda Devi, Mana, Hathi, Lampak, Dronagiri.
The Pangarchulla Peak Trek is a moderate to difficult trek that will take you 38 kilometers from Joshimath to the top of the peak. The best time to hike this trail is in April, May, October, and November. It is important to note that the temperature can vary greatly during the hike, so be sure to pack appropriately for both hot and cold weather conditions. The rail station and airport are both located close to the trailhead, so you won't have to spend too much time getting there.
Pangarchulla Peak Trek Quick Facts:
| | |
| --- | --- |
| Duration : | 07D/06N |
| Region : | Uttarakhand |
| Maximum Altitude : | 15,069 ft. |
| Trek Difficulty Level : | Moderate to Difficult |
| Trekking distance : | 44 km |
| Temperature : | Day 18°C to 13°C & Night -3°C to -6°C |
| Pangarchulla Peak Trek Best Time : | April, May, October, November |
| Start point/Endpoint : | Joshimath |
| ATM : | Joshimath |
| Region : | Uttarakhand |
| Railway Station : | Haridwar |
| Airport : | Jolly Grant Airport, Dehradun |
Why You Should Visit Pangarchulla Peak Trek
There are many reasons to visit Pangarchulla Peak Trek. The mountain range is beautiful and offers a perfect test of non-technical climbing skills. This seven-day trek will take you through some of Uttarakhand's most cherished areas and offer some of the best views in the region. The highlight of the trip will be reaching the 14,700-foot summit, where you'll be able to see some of Garhwal Himalaya's most renowned peaks. Whether you're an experienced climber or are just looking for a new adventure, Pangarchulla Peak Trek is definitely worth checking out! The trek also takes you through some of Uttarakhand's most famous attractions, including the Nanda Devi Sanctuary. The trails are accessible throughout the year, but the best time to visit is during the winter months when the trails are covered in snow.
How to reach Joshimath:
There are several ways to reach Joshimath from different parts of the country. The most popular way is by road. Haridwar is well connected by roads to all major cities and towns, so people as per their choice and comfort can take the bus to reach Haridwar smoothly. Haridwar is connected to Chandigarh (205km), Delhi (210km), Dehradun (59km), and Nainital (223km) through a good network of roads. Visitors can also take a direct flight to Dehradun from Mumbai or Delhi or connecting flights from anywhere in India. The nearest airport is Jolly Grant Airport in Dehradun which is around 262km from Joshimath. Alternatively, travellers can take a train to Haridwar Junction Railway Station which is well-connected by train, with frequent trains to Delhi (4-5 hours) and Dehradun (1 hour). There are also a few trains per day to Rishikesh. Local vehicles can be availed from outside the airport to reach Joshimath by road from Dehradun.
Know Before You Go for Pangarchulla Trek
Before you go on your Pangarchulla Trek, it's important to know some things. First, this trek is not for those suffering from an ailment or heart disease. Second, guidelines have been issued by the state government and must be followed. Third, make sure to bring a valid ID and ensure that you're familiar with the local customs. Finally, respect the wildlife and be sensitive to the local culture. You can even choose to bring your own gear if you'd like, but there may be additional costs associated with doing so. Transportation from Haridwar to Joshimath can also be expensive, so be sure to budget for that when planning your trip.
Things To Carry for Pangarchulla Trek
While trekking in Pangarchulla national park, it is important to carry the necessary supplies with you. Here are a few things you should make sure to pack:
A head torch to light your way at night.
Warm clothes for when it gets cold.
Caps, sunglasses, and sunscreen for when it gets sunny and warm.
Toilet paper and wipes for when nature calls.5. Walking sticks for when you get tired or unsteady on the trail.
Backpacks that are able to hold at least 50-60 litres of supplies so that you are not weighed down while hiking.
Binoculars so that you can take in all the beautiful scenery around you.
Fleece jackets and thermals to keep you warm on colder days or nights out on the trails.
Hiking shoes so that you can venture further into the park than ever before!
What is the Pangarchulla Peak Famous For?
The Pangarchulla Peak is a high mountain peak located in Uttarakhand, India. It is one of the most popular trekking destinations in the state, and is also known for its beautiful scenery.
The peak is particularly well-known for its ice peaks, which are distinct geometric shapes that protrude from the slopes of the mountain. These peaks are extremely impressive and offer stunning views of the surrounding countryside.
The Pangarchulla Trek is a popular route that takes visitors up to the peak. It can be completed in a day or two, depending on your fitness level and experience with hiking. The trail is well-marked and easy to follow, making it a safe and enjoyable journey.
Tips for trekking
If you are planning a trek in Pangarchulla, here are a few tips to help make your trip safe and enjoyable:
In case of an emergency, know the coordinates of the nearest medical facility.
Pack enough food and drink for the entire trek; do not rely on facilities along the way.
Carry a first-aid kit and sufficient water supplies.
Always keep a close watch on your surroundings; be aware of possible dangers lurking in the shadows.
Respect the natural environment and take care not to damage or disturb any wildlife.
Trek Weather Updates
To make the Pangarchulla Trek a safe and enjoyable experience, we provide regular weather updates. This way, you can be sure that the conditions on the trail are suitable for your hike.
We also have a team of experienced guides who will accompany you during your hike. They will be available 24/7 to offer support and advice if needed.
Finally, make sure to pack enough water and snacks to keep you nourished throughout your trek. By following these simple tips, you can guarantee a safe and enjoyable trek through the Pangarchulla Hills!
Program
( 07 days / 06 nights )
Day1

Rishikesh to Joshimath

Day2

Joshimath to Tugasi. Trek from Tugasi to Gulling/Akhrotghetta

Day3

Trek from Gulling/Akhrotghetta to Khullara

Day4

Trek to Kuari Top and back to Khullara

Day5

Trek from Khullara to Pangarchulla Summit, and back to Khullara

Day6

Trek from Khullara to Karchi, and drive to Tapoban

Day7

Drive back from Tapoban to Rishikesh
FREQUENTLY ASKED QUESTIONS
INCLUSIONS/EXCLUSIONS
Breakfast
Transportation
Stay
TERMS AND CONDITIONS
CANCELLATION AND REFUND:
Cancellations prior to 10 days from the start of the trek are entitled to a full refund(excluding the transaction charges)Cancellation between the 9th day and the 3rd day to the start of the trek will have an 80% refund. Cancellation less than 3 days to the start of the trek will have NO refund. For any assistance mail us at: info@indian-tours.in

DISCLAIMER:

This activity is hugely dependent upon weather. The trip may get canceled without any prior notice due to weather or any unforeseen adverse circumstances
GALLERY / PHOTOS