Malana Trek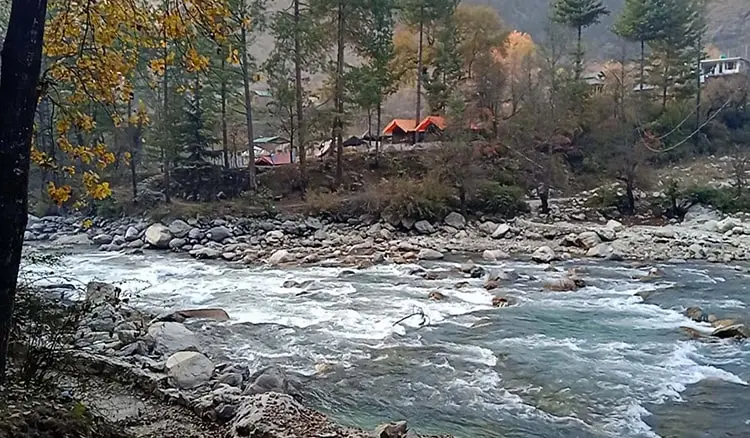 Kasol, located in the lower Himalayas, is a popular tourist destination in Himachal Pradesh, India. The area offers a variety of natural attractions, including the Malana Village Trek, which takes visitors up the slopes of the mighty Himalayas.
If you're looking for a unique and adventurous holiday, look no further than the Malana Village Trek in Himachal Pradesh, India. This trek takes you through stunningly beautiful forests and mountains, and provides a fascinating glimpse into traditional Himachal Pradesh culture. So whether you're looking to explore a new destination or just spend some quality time with family and friends, the Malana Village Trek is definitely worth considering!
The cost of this trek ranges from Rs 8000 to Rs 12000 per person, depending on the time of year you choose to go and the level of luxury you desire. This is a very popular trekking destination, so be prepared for long queues and high demand.
About Malana Village Trek
Malana is a village located in Himachal Pradesh, India. It is home to some of the most beautiful peaks in the region, as well as some of the most intriguing history. This 6 days 5 nights trek offers you a chance to explore all of this and more. It is nestled at an altitude of 3000 m above the sea level. Malana has been banned for public visit because people have been glorifying it as a place where they can get high on 'hash' (a form of cannabis). However, you can still visit this unique village if you take a trek from the Malana Taxi stand. The 5 km trek from the taxi stand to the village is one of the interesting day hikes you could take. The village is situated at an elevation of 10000 feet. During your journey, you'll visit Gowrishankar temple, Tripura Sundari, Roerich art gallery, and explore the peaks of Ali Ratna, Friendship peak, Deo Tibba, and Hanuman Tibba. You'll also have the opportunity to camp at the summit which offers the magic of the chilly winds, fresh air, tranquil surroundings, lush greenery, and snow-capped mountains to give you memories for a lifetime. Don't miss out on this amazing opportunity!
Malana Trek Quick facts:
| | |
| --- | --- |
| Temperature range : | Day: 10°C to 30°C; and Night: -1°C to 3°C |
| Malana trek altitude : | 8701 feet |
| ATM : | ATM facility is available in Malana |
| Trekking gradient : | Easy to moderate |
| Start Point : | Delhi |
| End Point : | Delhi |
How to reach?
There are a few ways to get to Malana from different parts of India. The quickest way is by air. Bhuntar is the nearest airstrip connected with a lot of airports across India. Taxi and buses are available from Bhuntar to the starting point of Malana Village Trek. It takes almost 2 hours to travel from Bhuntar to Malana. If you're interested in traveling by rail, Shimla, at 106 km, is the nearest railhead to Malana. You can cover the rest of the distance in a private vehicle.
Another option is by road: If you're looking to explore the stunning peaks of Malana, there's no better way than to hop on a Volvo A/C bus and drive from New Delhi. The journey takes around 12 hours, but once you arrive in Patlikuhal (20 km before Manali and 20 km after Kullu), you'll want to take a jeep ride to Rumsu base camp. From there, it's just a short hike up to the summit of Malana.
Know Before You Go: The Malana Trek
Before you go on your Malana trek, be aware of some important safety guidelines. First and foremost, know that the trip is not recommended for pregnant women or anyone who has had major surgery or a broken leg/arm. Also, because of the varying climatic conditions in the high altitudes, it is advisable that you take adequate time to get acclimatized. And if you do venture out into the wild, make sure to take caution and avoid using earphones while trekking; this can hinder your audibility. Finally, remember that any personal expenses or items of personal nature are not included in the package price; you'll have to bring them with you on your trip. And when it comes to camping, expect basic accommodations with little luxuries: no electricity, mobile charging points, or laptop-charging points are typically available. In case of breakage or damage at the resort during your stay, be prepared to pay for it out of pocket.
Best Time To Visit Malana
There is no one definitive best time to visit Malana, as it depends on your preferences and what you're looking for. However, the village is accessible year round, and can be seen at its best during winter months – from December to February first week. During summers, the village can be less clean and tidy, but you can still spot hashish farming at its best.
Where To Stay In Malana
If you're looking for a place to stay in the village of Malana, there are a few options available. You can stay at one of the local guesthouses, such as Dragon House Cafe, Rudra Cafe Malana, and Eagle Café & Guest House. These establishments provide basic facilities at a nominal cost of 500 rupees per room on sharing basis. Alternatively, you can camp out near the village by visiting Malana Magic Camping. This campsite offers wonderful views of the surrounding landscape and is situated almost 5 km towards the back of the village.
Things To Do In Malana
Malana is a small village in Himachal Pradesh. Apart from taking a stroll in the village and exploring the village backyard, there isn't much you can do in Malana. However, there are a few things you can do if you're visiting Malana.The first thing you should do is trek up to the waterfall at the back of the village. It is roughly 5 km far. Once you reach the waterfall, you can enjoy camping at Malana Magic camping or carry your own tent.Though entering the Jamlu Devta Temple is prohibited, you can walk up to the temple and take a look at the miniature work done on the temple wall and doors. Additionally, if you're looking for some everyday commodities and warm clothes, you can purchase them from some good store in the village.
Places To Visit Near Malana
There are many places of attraction near Malana. Some of them are Rashol, Kasol, Manikaran, Barsheni, Tosh, Kalga, Pulga, and Kheerganga. Most of these places form the popular Parvati Valley circuit. Stay in the top-notch condition to take to wander the mountains like a nomad.
Safety Precautions and Other Useful Tips
If you're considering a trek to the Parvati Valley in India, there are a few things you need to keep in mind. Here are some safety precautions to take into account:
Always hire a guide or porter who is qualified and experienced in trekking in the area.
Make sure you have all the necessary supplies, including enough food, water, and sunscreen.
Be sensible about your pace and don't go too fast or too slow. There are plenty of beautiful sights to see on this trek, but if you're not careful you could end up getting sick or injured.
Be aware of your surroundings at all times and be prepared to take action if you feel threatened.
These are just a few of the things to keep in mind when planning your trip to the Parvati Valley. If you follow these tips, you'll be sure to have a safe and enjoyable time while exploring this amazing part of India.
Conclusion
If you're looking for an unforgettable trek, look no further than the Malana Village Trek in Himachal Pradesh, India. Spanning over 6 days and covering a whopping 20 kilometers of beautiful countryside, this hike will have you exploring high altitude villages and wildlife sanctuaries that are otherwise inaccessible. With stunning landscapes and friendly locals, this is an expedition you won't want to miss.
Program
( 06 days / 05 nights )
Day1

Arrival in Kasol | Roadside Camping
FREQUENTLY ASKED QUESTIONS
TERMS AND CONDITIONS
CANCELLATION AND REFUND:
Cancellations prior to 10 days from the start of the trek are entitled to a full refund(excluding the transaction charges)Cancellation between the 9th day and the 3rd day to the start of the trek will have an 80% refund. Cancellation less than 3 days to the start of the trek will have NO refund. For any assistance mail us at: info@indian-tours.in

DISCLAIMER:

This activity is hugely dependent upon weather. The trip may get canceled without any prior notice due to weather or any unforeseen adverse circumstances