Australia tour packages from Bangalore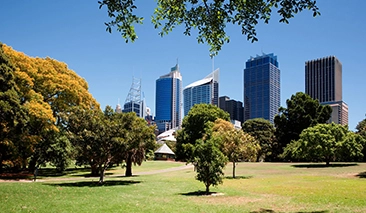 Introduction
Are you planning your next vacation and looking for an adventure of a lifetime? Look no further than Australia! Known for its stunning landscapes, diverse wildlife, and vibrant culture, this country has something to offer for everyone. And what's better than exploring Australia with a tour package from Bangalore? In this blog post, we'll guide you through everything you need to know about traveling to Australia from Bangalore – including top things to do, visa information, the best time to visit and more. So pack your bags and get ready for an unforgettable journey down under!
Australian Visa information
Before planning your Australia tour package from Bangalore, it is important to know about the Australian visa requirements. Citizens of India are required to obtain a visa before travelling to Australia. The most common types of visas are tourist visas and business visas.

Tourist visas permit holders to travel and stay in Australia for up to three months for holiday or recreational purposes, while business visas allow holders to attend conferences, seminars, meetings or make general business enquiries.

To apply for an Australian tourist or business visa, you can do so electronically using ImmiAccount through the Department of Home Affairs website. You will need a valid passport and other relevant documents such as financial statements showing sufficient funds for your trip.

The cost of an Australian visa varies depending on the type of visa applied for and processing time selected. It is recommended that you apply well in advance of your intended travel dates.

It is also important to note that possessing a visa does not guarantee entry into Australia; border officials have final say over who enters their country. Therefore, it's crucial that you meet all criteria when applying and ensure all necessary documentation is provided with your application.

By having all the necessary information regarding Australian Visa requirements prior to booking your trip will save any unwanted stress in ensuring everything is completed hassle-free!
What are the top things to do in Australia?
Australia is a vast and diverse country that offers a wide range of experiences for travelers. Here are some of the top things to do in Australia:

1. Explore the Great Barrier Reef: The world's largest coral reef system, located off the coast of Queensland, is home to an incredible array of marine life and offers unparalleled snorkeling and diving opportunities.

2. Visit Sydney: Australia's largest city has something for everyone, from iconic landmarks such as the Opera House and Harbour Bridge to beautiful beaches like Bondi.

3. Drive the Great Ocean Road: This scenic road trip along Victoria's coastline takes you past stunning vistas such as the Twelve Apostles rock formation.

4. Experience Uluru: A sacred site for Indigenous Australians, this massive sandstone monolith in central Australia is a must-visit destination.

5. Go wildlife spotting: From kangaroos to koalas to crocodiles, Australia is teeming with unique animal species that can be seen in their natural habitats.

No matter what your interests are, there are countless activities and sights worth exploring on an Australian tour package from Bangalore!
How long should you stay in Australia?
When it comes to planning a trip to Australia, one question that often arises is how long should you stay in the country. The answer depends on various factors such as your budget, interests, and itinerary.

If you're looking to explore the major cities of Sydney and Melbourne and visit popular tourist attractions like the Great Barrier Reef or Uluru, then a 10-14 day trip would be ideal. This will give you enough time to experience some of the must-see destinations while also allowing for some downtime.

However, if you have more time and want to delve deeper into Australia's diverse offerings such as its stunning beaches, rugged outback landscapes or unique wildlife experiences, then consider extending your stay by another week or two.

On the other hand, if you have limited vacation days but still want a taste of what Australia has to offer, then opt for a shorter trip focused on just one region like Queensland or Western Australia.

Ultimately, how long you stay in Australia depends on your personal preferences and travel goals. So take some time before booking your tickets to plan out your itinerary and decide what kind of Australian adventure suits you best!
What is the best time of year to visit Australia?
Australia is a vast country with varying climates across its regions. Therefore, the best time to visit Australia depends on what you want to experience and see during your trip.

If you're planning to visit the northern parts of Australia, such as Darwin or Cairns, then the dry season from May to October is ideal. This period offers warm temperatures and little rainfall making it perfect for outdoor activities like hiking and snorkeling.

On the other hand, if you plan on visiting Sydney or Melbourne, then spring (September-November) or autumn (March-May) is recommended. During these seasons, temperatures are mild with fewer crowds compared to peak summer months.

Summer in Australia runs from December-February and can be very hot especially in inland areas which could reach up to 40°C. However, this season is perfect if surfing beaches are part of your itinerary.

There's no bad time to visit Australia but considering where you'll be staying and what experiences interest you most will help determine when it's best for your trip.
How to get to Australia from Bangalore
Getting to Australia from Bangalore is easier than you might think. There are several airlines that offer direct flights, such as Air India and Qantas, which typically take around 13-14 hours.

If you're looking for a more budget-friendly option, there are also connecting flights available through cities like Singapore or Kuala Lumpur. These can be a bit longer in duration but often come with lower prices.

When booking your flight, make sure to leave enough time for layovers and any necessary visa or travel requirements. It's always a good idea to check with the airline or embassy beforehand to ensure everything is in order.

Once you arrive in Australia, there are several airports throughout the country that offer domestic connections if you plan on exploring beyond your initial destination.

Traveling from Bangalore to Australia may seem like a long journey but with some planning and preparation it can be an exciting adventure worth taking.
Tips for travelling to Australia
Travelling to Australia from Bangalore can be an exciting adventure, but it's important to prepare properly before embarking on the journey. Here are some tips that will help you make the most out of your trip:

1. Apply for your Australian Visa well in advance: Make sure you have all the necessary documents and apply for your visa at least a few weeks before your departure date.

2. Pack light: It's always a good idea to pack light when travelling to Australia as this makes moving around easier and cheaper.

3. Be prepared for the weather: The climate in Australia varies depending on which part of the country you're visiting, so be sure to check what kind of weather conditions you can expect during your stay.

4. Choose comfortable footwear: If you plan on doing a lot of walking or hiking, be sure to bring comfortable shoes that offer proper support.

5. Stay hydrated: The Australian heat can be intense during certain times of year, so make it a priority to drink plenty of water throughout the day.

6. Get travel insurance: Accidents and unexpected illnesses can happen while travelling, so having travel insurance is essential for peace of mind.

By following these simple tips, you'll ensure that your trip to Australia is safe, enjoyable and stress-free!
Conclusion
To wrap it up, Australia is a magnificent destination that offers endless possibilities for adventure seekers, nature lovers and leisure travelers alike. From the iconic landmarks to the stunning beaches and vibrant cities, there's something for everyone in this diverse country.

If you're looking to plan an unforgettable trip from Bangalore to Australia, make sure you keep these tips in mind. Get your visa sorted out well in advance, pick the right time of year to visit based on your interests and preferences, choose a reliable tour package provider who can take care of all your travel arrangements and follow our handy tips for travelling around Australia hassle-free.

So what are you waiting for? Start planning your dream vacation today!
Program
( 10 days / 9 nights )
FREQUENTLY ASKED QUESTIONS
INCLUSIONS/EXCLUSIONS
Travelling to Australia can be an exciting and unforgettable experience. However, it is essential to keep in mind some tips that will help you make the most of your trip.
Firstly, remember to pack appropriately for the weather conditions as they can vary greatly depending on the region you are visiting.
TERMS AND CONDITIONS
CANCELLATION AND REFUND:
Cancellations prior to 10 days from the start of the trek are entitled to a full refund(excluding the transaction charges)Cancellation between the 9th day and the 3rd day to the start of the trek will have an 80% refund. Cancellation less than 3 days to the start of the trek will have NO refund. For any assistance mail us at: info@indian-tours.in
GALLERY / PHOTOS