Camping in Bhimtal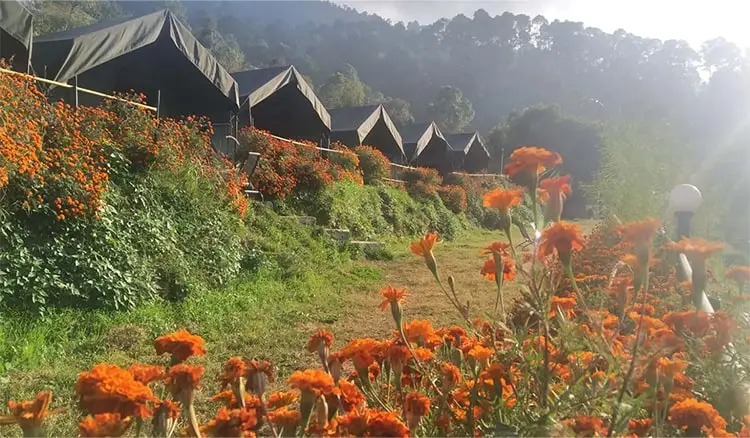 Camping in Bhimtal – Indian Tours
If you're looking for an adventure and want to get away from the hustle and bustle of daily life, camping is definitely the perfect way to do it! And if you're looking to camp in some amazing locations, Bhimtal is definitely one of them! Located in Uttarakhand, Bhimtal is a stunning area that's perfect for exploring on foot or by mountain bike.
Here, you can enjoy views of snow-capped peaks and glistening lakes while spending your holidays camping out under the stars. If hiking and biking isn't your thing, don't worry - there are plenty of activities available at Bhimtal that will keep you busy too. So what are you waiting for? Camping in Bhimtal is a fantastic way to escape the city and experience nature at its finest!

What is camping?
Camping is a term used to describe the act of taking a break from civilization and spending time outdoors, usually in a sheltered area such as a park or forest. The main purpose of camping is to enjoy nature without having to carry all of your belongings with you. There are many different types of camping, including backpacking, car camping, and glamping.
7 reasons to camp in Bhimtal
Bhimtal is an amazing place to camp. Here are nine reasons why you should consider camping in Bhimtal:
1. The views from Bhimtal are breathtaking.
2. There are plenty of places to pitch your tent or hammock.
3. The weather is perfect for camping – hot during the day and cool at night.
4. There is plenty of wildlife to watch – including bears and wildcats!
5. The atmosphere at Bhimtal is peaceful and serene.
6. Bhimtal is a great place to hike or cycle – there are lots of trails available for exploring.
7. There are plenty of eateries and shops nearby if you need them, but you will definitely feel like you're away from it all when camping in Bhimtal.
Which activities are available at Bhimtal?
Bhimtal is well known for its hiking trails and camping spots. You can enjoy a variety of activities such as trekking, biking, horseback riding, camping, picnic and bird watching while at Bhimtal.
Trekking is perhaps the most popular activity in Bhimtal. There are a number of trails that offer different levels of difficulty and all lead to scenic lakes and peaks. The trails are well maintained and offer amazing views of the surrounding mountains. Hiking is not for the faint-hearted though - be prepared for uphill walks and steep descents.
Biking is another popular activity in Bhimtal. You can explore the nearby villages on bike or take longer rides through the forested areas. The trails are well maintained and there are plenty of opportunities to stop off at scenic viewpoints along the way.
Horseback riding is also a popular activity in Bhimtal. You can ride through the forests or along the villages roads. There are several equestrian centres in Bhimtal where you can hire horses and riders.
Camping is one of the main attractions at Bhimtal. There are several camping spots scattered around the area that offer great views .
Best Time to Visit Bhimtal
Bhimtal is one of the most popular hill stations in India. The best time to visit is from October to March, when the weather is cool and sunny. During June to September, temperatures can range from hot to very hot, making it a less desirable time to visit.
The best way to experience Bhimtal is by taking a guided tour. Indian Tours offers several different types of tours that will give you an amazing insight into Bhimtal's history and culture. If you're looking for an adventure, try a trekking or cycling tour. Or if you just want to relax and sightsee, choose a walking tour. No matter what type of tour you choose, your guide will make sure that you have an amazing time!
What to take with you on your camping trip to Bhimtal?
When planning your camping trip to Bhimtal, be sure to take some supplies with you. Here are a few things that will come in handy:
-Camping Tent
-Tent Sleeping Bag
-Flashlight/Headlamp
-First Aid Kit
-Spare Batteries for Flashlight/Headlamp
-Matches or a lighter for starting the fire
How To Reach
Bhimtal is a picturesque town located in the Nainital district of Uttarakhand state. The town is popular for its skiing, trekking and mountaineering opportunities. Bhimtal can be reached by road, train or flight
By Flight
Visitors to Bhimtal can either take a taxi or hire a car, which will take about two hours. The nearest airport is Pantnagar Airport, which has regular flights from New Delhi and is 55 kilometers away.
By Train
Tourists can head over to Kathgodam, the nearest railway station to Bhimtal, and there they can find cabs and buses that will take them to nearby Bhimtal.
By Road
Bhimtal can be reached by roads. Visitors can hire taxis from popular destinations in the Kumaon region, Almora, Nainital and Kathgodam. Alternatively, visitors could take buses from Kathgodam and Nainital to Bhimtal.
What is the food like at Bhimtal?
The food at Bhimtal is amazing! The food is definitely a highlight of the trip. There are so many options to choose from, and everything is cooked very well. You can also find some great souvenirs on the market if you're looking for something specific.
Conclusion
If you're looking for a fun and adventurous camping trip in the Himalayas, Bhimtal is definitely the place to go! Situated in Uttarakhand, Bhimtal is known for its picturesque peaks and crystal-clear lakes. With charming villages dotting its slopes, it's easy to feel right at home while staying active outdoors. And if hiking and trekking aren't your thing, there are plenty of activities available in and around Bhimtal that will keep you entertained – from horseback riding to whitewater rafting. So pack your bags and prepare for an unforgettable camping experience!

Program
( 2 days / 1 nights )
Day1

Arrive at the campsite in Bhimtal

Check-in to your comfortable tents and freshen up. Enjoy a delicious lunch at the campsite. Spend the afternoon exploring the nearby forests, taking a dip in the lake or indulging in some outdoor games like cricket or volleyball. In the evening, enjoy a bonfire and BBQ dinner under the stars

Day2

Wake up early

Wake up early to catch the stunning sunrise over the Himalayas Enjoy a hot cup of tea or coffee and a hearty breakfast at the campsite Spend the morning hiking to the nearby mountain peak for panoramic views of the surrounding landscape
Return to the campsite for lunch and pack up your bags Check out in the afternoon and head back home with memories of a rejuvenating and adventurous camping trip in Bhimtal.
FREQUENTLY ASKED QUESTIONS
Each trekker is responsible for his/her own safety. Trek organizers, guides, porters will not be responsible for any damage, theft, or loss of goods.
TERMS AND CONDITIONS
CANCELLATION AND REFUND: