The Anthargange Sunrise Trek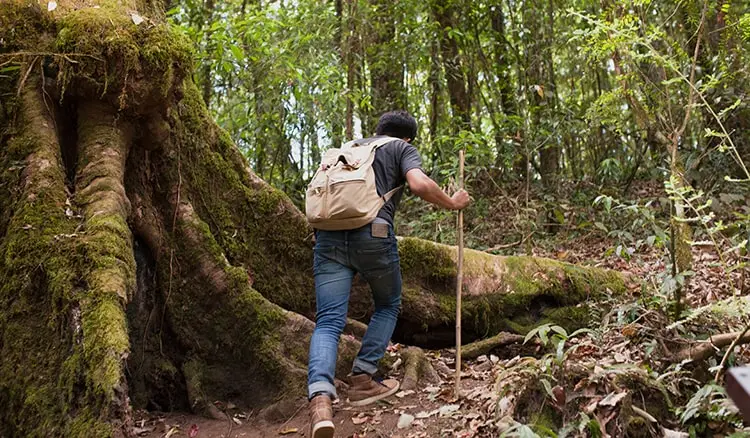 If you're looking to explore some of the most beautiful cave systems in India, then look no further than Anthargange Sunrise Trek is situated in the Kolar district of Karnataka in the Shathashrunga range, about 70 km from Bangalore. This amazing adventure combines trekking through dense forest and up steep hills with a day-long cave exploration. Not only will you be amazed by the natural wonders that surround you, but you'll also gain insights into the history and culture of the people who live in this area. If you're looking for a challenging trek in an unexplored area, this cave is perfect. Book your tour today and start your journey to a truly unique experience!
About Anthargange Trek
Antargange is a 1712 meter high hill located around 65 kilometers from Bangalore near Kolar. The trek is moderate and takes around 3 kilometers to reach the cave site. The hike is well-maintained and the trail is easy to follow. It is popular for its trek and night cave exploration. The trek starts by making your way through broken rocks and tricky path in the boulders to finally reaching the cave site to probe. This amazing experience of making your way through the formation and crawling at times because of the cave's volcanic rock formation is a tale worth sharing.
The Antara Gange caves are a popular tourist attraction in Karnataka. They are located 3-4 kilometers from the Sri Kashi Vishweshwara temple, and are well known for their Basava caves. There are seven villages on the mountain, including Therhalli. Trekking in and around the caves is popular here, and tourists also do night trekking and camping here, especially in summer months.
Anthargange Sunrise Trek Overview
Activity Location: Anthargange, Bangalore
Activity Duration : 1 night
Trek distance : 3 km
About the activity :
The Anthargange trek is a perfect activity to enjoy nature. The trails are well-maintained, and the scenery is breathtaking. The horse-faced peak is the highest point in the area, and it's a great place to spend a day hiking. The experience at Anthargange cave takes you back to the primaeval times, and you finally get to be a "Caveman". Unwind by the bonfire and watch the night's magic captivate you. Grab scrumptious meals in the form of breakfast and regain your energy. Avail the assistance of a friendly guide who would support the perfect trekking experience throughout the journey.
Know Before You Go: Essential Advice On Trekking The Anthargange
Before you go on the Anthargange Sunrise Trek, it is important to know a few things. First and foremost, this activity is not recommended for women who are more than three months pregnant, anyone that has had major surgery, or has a broken leg/arm, has chronic back or neck pains, etc. In fact, if you fall into one of these categories, please do not book the trek. Additionally, while this activity is definitely strenuous, it is not suitable for those who are more than 90 days post-injury or those who have sustained injuries in the past month. Finally, this trek is not for the faint of heart. Participants must be in good physical condition and avoid consuming heavy food or alcoholic beverages before and after the activity. If you have any questions about whether this trek is right for you, please contact our team at support@indian-tours.in and we will do our best to answer any questions you may have.
Things To Carry for Anthargange Sunrise Trek
If you are planning on participating in the Anthargange Sunrise Trek, there are a few things that you should bring with you. The first thing that you should carry is a flashlight. This will help you find your way if you get lost during the trek. You also need to bring your phone so that you can call for help if needed. Another important item that you should bring is water. Make sure to pack enough water so that you don't get dehydrated during the trek. Finally, make sure to bring sunscreen, Hiking shoes and bug spray in case there are any mosquitoes or bugs while on the trek.
How to Reach?
To reach the location, start from the city centre and take the route via NH75. It will take you approximately 1 hour and 40 minutes to reach the location.
Conclusion
If you're looking for a truly unique and memorable travel experience, Anthargange Sunrise Trek - Cave Exploration from Bangalore should definitely be at the top of your list. This cave exploration tour takes you on an epic journey deep into the jungles of Bangalore, where you'll see beautiful sunrises and stunning natural scenery that's sure to leave a lasting impression. With tours departing daily, there is no reason not to book your spot today!
Program
( 01 days / 01 nights )
Day1
The itinerary for this trip is as follows :
11:00 PM - Pick up from Bangalore
04:00 AM - Reach Anthargange base
04:15 AM - Start the small trek followed by cave exploration
06:30 AM - Wake up & watch sunrise
07:00 AM - Head back towards Anthargange base
07:15 AM - Head to the nearby restaurant
07:45 AM - Freshen up & have breakfast
09:30 AM - Head back to Bangalore
11:00 PM - Reach Bangalore
FREQUENTLY ASKED QUESTIONS
TERMS AND CONDITIONS
CANCELLATION AND REFUND:
Cancellations prior to 10 days from the start of the trek are entitled to a full refund(excluding the transaction charges)Cancellation between the 9th day and the 3rd day to the start of the trek will have an 80% refund. Cancellation less than 3 days to the start of the trek will have NO refund. For any assistance mail us at: info@indian-tours.in.
GALLERY / PHOTOS