Devkund Waterfall Trek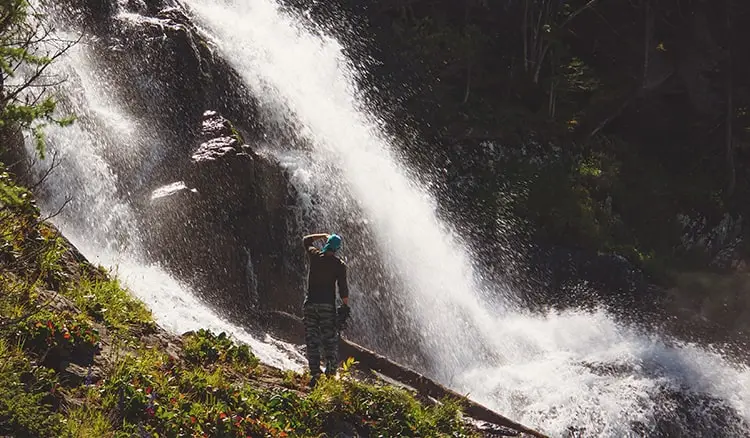 Mumbai is a huge city in India and known for its bustling marketplaces and skyscrapers. Devkund, one of the most beautiful waterfalls in Maharashtra, is situated near Mumbai. This waterfall is a peaceful oasis in the middle of the city that people love to visit on their Mumbai trip.
This article will give you an overview of the Devkund Waterfall, which is one of the most popular waterfalls in India and also one of the safest. This waterfall is actually a series of cascades that were created by rainwater. In fact, because of its hidden nature, there are no signs pointing to it!
Devkund Waterfall Trek Overview
| | |
| --- | --- |
| Activity Location : | Bhira, Maharashtra |
| Activity Duration : | 1 Day |
| Startng point of the Trek : | Bhira village |
| Max Altitude : | 2,700 ft |
| Trek Difficulty : | Easy to Moderate |
| Trek Best Time : | June to December |
| Distance covered : | 5-6 km each side |
| Time Taken : | 1.5 hours each way |
About Devkund Waterfall Trek
Devkund Waterfall is a beautiful waterfall located near Bhira Village. Visitors can hike to the waterfall and witness the amalgamation of three waterfalls. The trekking expedition to Devkund Waterfall is an experience that is sure to leave you with memories that you will never forget. During the trek, you will also be able to see the beautiful Bhira dam and Tamhini Ghat. The trek is conducted by experienced trek leaders who are equipped with all the necessary gear for a safe and enjoyable trek.
How to Reach the Waterfall?
To reach Devkund waterfall Trek, you can either choose to take the package with transportation or opt for a package without transportation. The package with transportation offers comfortable pick-up and drop-off service until the base village of Bhira, which is about 170 kilometers from Mumbai and 110 kilometers from Pune.
The package without transportation allows you to reach the base point - Bhira village, which is about 7 hours distance from Mumbai and 5 hours distance from Pune. It can be easily accessed through Mumbai Pune Expressway.
Know Before You Go for Devkund Waterfall Trek
If you're looking to hike a waterfall during your travels, be sure to check out Devkund Waterfall. Located in Bhira, Maharashtra, this stunning attraction is accessible only by trekking. So, be prepared for a challenging outing – but the rewards are well worth it. Here are five things you need to know before embarking on this journey:
The hike to Devkund is around 5-6 Kms on one side long and takes around 4 hours to complete.
The route is steep and requires stamina and good balance – so be prepared for a rigorous workout!
The waterfalls at Devkund are quite impressive, with a variety of waterfalls and pools along the way.
There are several viewing points along the way, so stop and take in the views whenever you get a chance.
Be sure to bring plenty of food and water – and sunscreen, if you plan on spending any time outside!
Things to carry
ID proof
Backpack (waterproof or covered with waterproof cover)
Trekking shoes or any sports shoes with a Good grip
Trekking pants (compulsory), 2 T-Shirts (Preferably full sleeves or Half T-shirt with sleeves), Raincoat/ waterproof jacket/ windcheater, Handnapkin/Towel, etc
Water 2-3 liters.
Ready-to-eat food like plum cakes, Dry fruits, dry snacks and biscuits, Chikki, chocolate bars, etc.
Torch
Personal Medicines and Personal First aid Kit
Places to visit near Devkund Waterfall:
Tata Power Dam at Bhira
Andharban Trek endpoint
Tamhini Ghats
Kundailika River
Things to do Devkund Waterfall Trek:
- Kayaking on the Kundailaka River
- Camping near Bhira Dam
- Exploring rural life in villages near Devkund
- Nature photography, vlogging, blogging
The Best Time of Year to Go on the Trek
The best time of year to go on the Devkund waterfall trek is during the monsoon season, which runs from June to September. The falls are at their most spectacular then and the surrounding forests are lush and green. During other times of the year, there may be less rainfall, meaning that the falls will be less impressive.
The Cost of the Trip
Devkund waterfalls is a popular tourist destination in Mumbai. It is located at Bhira village and can be accessed by a taxi or bus. The trek to Devkund waterfall is strenuous and takes about 4 hours. The total cost of the trip is Rs 700.
The hike begins with a long walk through dense forest, before arriving at the falls. There are several steps to negotiate, but the view is well worth it. After taking in the sights and sounds of the waterfall, it's onward journey continues for another hour on an incline. Finally, you reach the campsite, where you can take a break before returning home.
What to expect on Devkund Waterfall Trek?
If you are looking for a relaxed and rewarding trek, Devkund Waterfall Trek is the perfect option for you. This 2-day trek will take you to the mesmerizing waterfall located in the Bhira village, near Kolad, in the Raigad district of Maharashtra. The journey begins with a scenic drive to reach the starting point of the trek. Once there, you will be met by your guide who will provide you with all the necessary information about the trail.
The hike begins with a gentle climb up to Devkund Falls. After reaching the top, you will be treated to a beautiful view of the falls and surroundings. The path then drops down towards Devkund Lake where you can enjoy some refreshing swims. The return journey follows an easy loop back to your starting point, ensuring that everyone enjoys a relaxing hike.
So what are you waiting for? Reserve your spot on this amazing trek today!
How to Prepare for the Trek
If you are considering a trek to the Devkund Waterfall in Maharashtra, there are a few preparations you should make before leaving. The waterfall is located in Bhira village, which is an area that can be quite challenging to reach. Here are a few tips to help make your trek more enjoyable:
Make sure your clothing is adequate for the weather. The temperatures can range from hot in the summer to cold in the winter, so pack accordingly. You may also want to bring a raincoat or umbrella.

Make sure you have all the supplies you will need for the trek, including food and water. Bear in mind that there is no electricity or phone service at the waterfall, so you will need to bring enough provisions for the journey.
Make sure you have enough knowledge about local geography and customs before setting out on your hike. Many areas of India are off-the-beaten path, so it's important to be prepared for anything.

Finally, be aware of your surroundings at all times. If something feels off, don't hesitate to retreat back to base camp until you are confident that everything is safe.
Tips for a perfect Devkund waterfall trek
If you are planning a Devkund waterfall trek from Mumbai, make sure to allot plenty of time for travel and prep your body for the strenuous hike.
Hydrate well before arriving in the hills. Bring snacks and plenty of water along to avoid feeling thirsty or famished during your hike.
Take breaks as needed, but remember to be patient. The waterfall trek is definitely worth it!
Be aware of your surroundings and use caution when crossing streams or stepping over roots in slippery areas.
Stay with a group and be prepared to help others if they get lost or injured. Remember that the journey is more rewarding than the destination!
Conclusion
If you're looking for an incredible hiking experience, look no further than Devkund Falls. Located in Bhira village, this waterfall trek is not to be missed! Indian Tours offers a variety of packages that will fit your travel needs, and the staff is always happy to answer any questions you may have about the trip. I highly recommend booking a tour with them if you're considering visiting Devkund Falls – it's an experience you'll never forget!
Program
( 1 days / 0 nights )
FREQUENTLY ASKED QUESTIONS
TERMS AND CONDITIONS
CANCELLATION AND REFUND:
Cancellations prior to 10 days from the start of the trek are entitled to a full refund(excluding the transaction charges)Cancellation between the 9th day and the 3rd day to the start of the trek will have an 80% refund. Cancellation less than 3 days to the start of the trek will have NO refund. For any assistance mail us at: info@indian-tours.in
GALLERY / PHOTOS