Camping in Rishikesh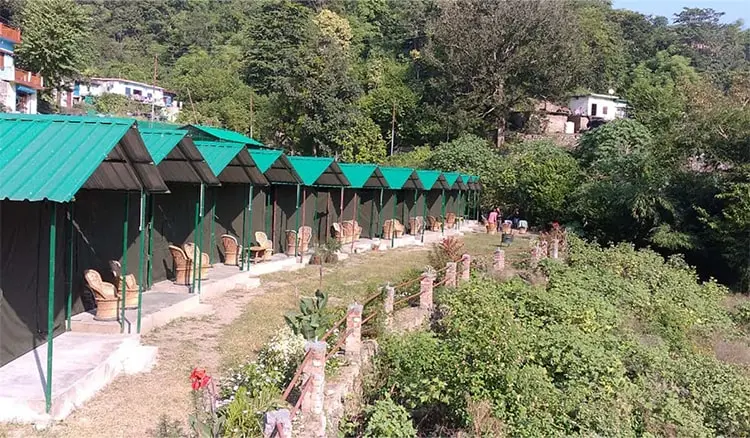 Camping in Rishikesh- IndianTours
If you're looking for a camping trip that's out of the ordinary, consider camping in Rishikesh, India. This holy city is known for its yoga and meditation retreats, as well as its scenic setting in the foothills of the Himalayas. Not to mention, Rishikesh is a great place to explore Indian culture and cuisine.
What is Rishikesh known for?
Rishikesh is a holy city located in the state of Uttarakhand, in northern India. The city is home to some of the most beautiful temples and ghats in India, as well as a number of other attractions that make it an interesting place to visit. Rishikesh is also known for its natural beauty, temples and ashrams.
The city has a number of campsites available, which can be used by people looking to explore the area or just relax while they are on holiday. There are also a number of restaurants and guesthouses available in the city, making it an ideal place to stay while you are in Rishikesh.
What to do in Rishikesh?
There are many things to do in Rishikesh, including hiking and biking trails, visiting religious sites, experiencing yoga and meditation classes, and taking a river cruise.
How to choose the best campsite in Rishikesh
Choosing the best campsite in Rishikesh can be a daunting task, but with a bit of research it can be easy to find a great spot. Here are some tips to help you make the perfect choice for your camping experience in Rishikesh:
1. Consider your budget. Price isn't the only factor to consider when choosing a campsite in Rishikesh – location, amenities, and distance from major attractions also play a role.
2. Look for campsites with views. The best campsites in Rishikesh offer stunning views of the hills and valleys below. You'll be able to enjoy peaceful campfire nights and wake up to stunning views every morning.
3. Consider proximity to restaurants and shops. If you're looking for convenience while on your trip, seek out campsites that are close to restaurants and shops. This will make it easy for you to get your hands on everything from Indian snacks to souvenirs.
4. Pay attention to reviews. Once you've narrowed down your options, take some time to read through customer reviews of each campground to see which ones offer the best overall experience. You may be surprised at just how
Tips for enjoying your camping experience in Rishikesh
If you're looking for a fun and unique camping experience in Rishikesh, here are some tips to make the most of your stay:
- Go early in the morning or late in the evening when the crowds are smaller.
- Reserve a campsite in advance - it's always more peaceful and less noisy this way!
- Bring your insect repellent - there's no escaping the mosquitos in Rishikesh!
- Bring plenty of water and snacks, as there's not much else to do around camp besides relax.
- Be prepared for the occasional bit of rain - it can be quite wet out there!
What to know before visiting Rishikesh
Rishikesh is a world-famous yoga and meditation mecca, and it's easy to see why. The city is perched atop a hill overlooking the Ganges River, and it's surrounded by lush forests and stunning landscapes. If you're looking for a relaxing getaway, Rishikesh is definitely worth considering. Here are five things to know before you go camping in Rishikesh:
1. The temperatures can be quite extreme in Rishikesh during the summer months. Make sure to pack your appropriate clothing!
2. Rishikesh is a popular spot for yoga and meditation, so expect to see a lot of people out and about during your stay.
3. The city has plenty of accommodation options, from budget hostels to luxury resorts. Check out the various options before making your decision.
4. There are several walking trails that crisscross through the city, perfect for exploring on foot.
5. Make sure to pack your camera! Rishikesh is filled with stunningly scenic locations that would make great photo opportunities!
What to Bring on Your Trip to Rishikesh.
When planning your camping trip to Rishikesh, keep in mind the following items:
- Tent or Sleeping Bag
- Lantern or Flashlight
- Maps and Directions
- Food and Water
- Sunscreen
- Insect Repellent
Conclusion
If you're looking for a great camping experience in Rishikesh, IndianTours is the perfect company to partner with. Not only are our tents and other camping gear top-of-the-line, but our team of experienced guides will make sure that your trip is everything that you hoped it would be. From arranging transportation from Delhi to Rishikesh, to helping set up camp each night, IndianTours takes care of every detail so that you can focus on just enjoying your time outdoors. If you're considering a camping trip in India, look no further than Indian Tours!
Program
( 2 days / 1 nights )
FREQUENTLY ASKED QUESTIONS
Each trekker is responsible for his/her own safety. Trek organizers, guides, porters will not be responsible for any damage, theft, or loss of goods.
TERMS AND CONDITIONS
CANCELLATION AND REFUND:
GALLERY / PHOTOS