Australia Tour Package from Kolkata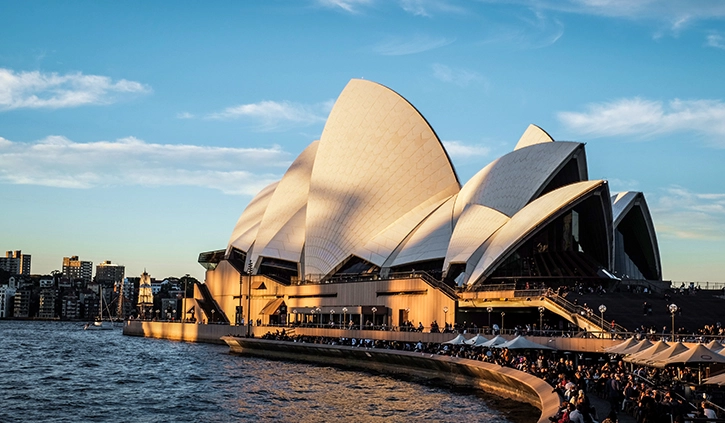 Introduction
Are you planning to travel abroad from Kolkata but can't decide where to go? Why not explore the fascinating land of Australia? From its iconic landmarks, stunning beaches, diverse wildlife, and unique cuisine, Australia has something for everyone. And the best part is that it's now easier than ever to plan your dream vacation with various tour packages available from Kolkata. So fasten your seatbelts as we take you on a journey through the highlights of an unforgettable trip Down Under in this blog post about Australia Tour Package from Kolkata.
Kolkata to Australia Flights

Planning a trip from Kolkata to Australia? The distance between the two cities is quite vast, and hence, air travel is the most convenient option. There are several airlines that operate flights from Kolkata to different cities in Australia like Melbourne, Sydney, Brisbane, Perth, among others.

Several airlines offer connecting flights taking one or two stops en route. Some of the popular airlines offering direct flights include Qantas Airways and Air India. However, these may not always be cost-effective options.

The best time to book your flight tickets would be at least three months prior to your planned departure date as prices tend to soar during peak tourist seasons. Also keep an eye out for discounts and offers on airline websites or through travel agencies.

The average duration of a direct flight from Kolkata to any Australian city is around 13-14 hours which can vary depending on layovers if you opt for connecting flights. So make sure you carry all necessary items including comfortable clothing and entertainment options for long hauls.

Make sure you check visa requirements before booking your ticket as well since Indian passport holders require a valid visa for entry into Australia.
Best Places to Visit in Australia
Australia is a vast island-country that has endless attractions and tourist destinations. From the iconic Sydney Opera House to the Great Barrier Reef, Australia offers something for everyone. Here are some of the best places to visit in Australia:

First on our list is Uluru-Kata Tjuta National Park located in central Australia. It is home to one of Australia's most famous natural landmarks – Uluru or Ayers Rock. This red monolith rises 348 meters above ground level and changes color throughout the day.

Next up is The Great Barrier Reef which spans over 2,300 km along Queensland's coastlines and attracts millions of visitors every year. The reef system comprises thousands of individual reefs that are home to diverse marine life like sharks, turtles, dolphins and much more.

No trip to Australia would be complete without visiting Sydney Opera House situated on Sydney Harbour. It was designed by Danish architect Jørn Utzon in the mid-20th century as an expressionist modern design masterpiece.

Another must-see destination worth mentioning is Kangaroo Island located off South Australia's mainland offering natural landscapes with wildlife reserves such as sea lions, koalas, kangaroos among others.

We have Melbourne city known for its vibrant street art scene and trendy cafes & restaurants tucked away down alleyways at Fitzroy Gardens in East Melbourne area not far from Yarra riverbank walkway trails enjoyed by locals all year round!
Australian Cuisine
Australian Cuisine is a melting pot of culinary traditions from around the world. Due to its multicultural population, Australian food has been influenced by different cultures such as British, Indigenous, and Asian. One of the staples in Australian cuisine is meat pies. These savory pastries are filled with minced meat and gravy and can be found at almost every bakery across Australia.

Another popular dish in Australia is fish and chips. This meal consists of battered or crumbed fish served with hot chips (French fries) and tartar sauce. It's a classic comfort food that was introduced by British settlers.

Australia also boasts some unique desserts like lamingtons - sponge cake coated in chocolate icing and desiccated coconut - pavlova - a meringue base topped with whipped cream and fresh fruits- , ANZAC biscuits- oatmeal cookies made without eggs-, among others.

In recent years, there has also been an emphasis on healthy eating options such as vegetarianism, veganism, gluten-free diets which have become increasingly popular in Australia's cosmopolitan cities.

Australian cuisine offers a diverse range of flavors that reflects its history of immigration while incorporating modern trends in cooking techniques.
Australian Culture
Australia is a diverse country with a rich cultural heritage. The Australian culture is an amalgamation of various cultures, including Aboriginal and Torres Strait Islander cultures, British colonial influences and the multiculturalism brought by immigrants from all over the world.

The art forms in Australia are unique to its culture. Indigenous Australians have their own distinct art style that depicts their Dreamtime stories, while contemporary artists explore different mediums like painting, sculpture and installation art.

Sport plays a significant role in Australian culture. Australians love sports like cricket, rugby, football (soccer) and Australian Rules Football (AFL). They take pride in hosting some of the most prestigious international sporting events like the Australian Open Tennis Championship and Formula One Grand Prix.

Food also reflects Australia's cultural diversity. From traditional Aussie meat pies to Asian stir-fries to Italian pizzas - there's something for everyone! Seafood lovers can indulge in freshly caught prawns or oysters while wine enthusiasts can sample award-winning wines from vineyards across the country.

Hospitality is also an essential part of Australian culture where people are friendly and welcoming towards visitors. Aussies love to socialize over barbecues or picnics on weekends with family and friends.

Experiencing Australia's vibrant culture makes it one of the best travel destinations globally!
Australian Weather
Australia is known for its diverse range of climates and weather conditions. The country experiences four seasons, with some regions experiencing extreme temperatures during the summer months.

During the months of December to February, Australia experiences summer which can be extremely hot in some parts of the country such as Queensland and Western Australia. Temperatures can soar up to 40°C or even higher at times.

March to May marks autumn in Australia where temperatures start to cool down but are still pleasant enough for outdoor activities. June to August is winter season where snowfall occurs in certain areas like Victoria and New South Wales.

Springtime starts from September till November when flora blooms across different regions making them perfect for nature lovers. However, spring also brings about unpredictable weather patterns with occasional thunderstorms and heavy rainfall in some areas.

It's important to pack appropriately based on the season you plan on visiting as temperatures vary greatly between different parts of the country.
Tips for Travelling to Australia
Australia is a vast and diverse country that has so much to offer for tourists. Here are some tips to make your trip more enjoyable:

1) Plan ahead - Australia is a big country, and you won't be able to see everything in one trip. Decide what places you want to visit and plan accordingly.

2) Get travel insurance - It's always better to be safe than sorry, especially when travelling overseas. Make sure you have travel insurance that covers medical expenses.

3) Pack for the weather - The weather in Australia varies greatly depending on where you're going. Check the forecast before packing, but generally speaking, it's always wise to bring sunscreen and a hat.

4) Respect the culture - Australians are known for being friendly and laid-back people, but it's important to remember that they have their own unique customs and traditions.

5) Watch out for wildlife - Australia is home to many animals that can be dangerous if not treated with respect. Be cautious when hiking or swimming in unfamiliar areas.

By following these tips, you'll be well-prepared for your Australian adventure!
Conclusion
To sum up, Australia is a country with an abundance of natural beauty, cultural richness and diverse experiences. From the bustling cities to pristine beaches, from unique wildlife to mouth-watering cuisine, there's something for everyone in this fascinating destination.

If you're planning for an Australia tour package from Kolkata, make sure you do your research well in advance. Choose the best time to visit based on your preferences and budget. Consider exploring multiple destinations within Australia as each one has its own charm.

And lastly, don't forget to immerse yourself in Australian culture by engaging with locals and trying out new things. With proper planning and a sense of adventure, your trip to Australia can be truly unforgettable!
Program
( 10 days / 9 nights )
FREQUENTLY ASKED QUESTIONS
INCLUSIONS/EXCLUSIONS
Travelling to Australia can be an exciting and unforgettable experience. However, it is essential to keep in mind some tips that will help you make the most of your trip.
Firstly, remember to pack appropriately for the weather conditions as they can vary greatly depending on the region you are visiting.
TERMS AND CONDITIONS
CANCELLATION AND REFUND:
Cancellations prior to 10 days from the start of the trek are entitled to a full refund(excluding the transaction charges)Cancellation between the 9th day and the 3rd day to the start of the trek will have an 80% refund. Cancellation less than 3 days to the start of the trek will have NO refund. For any assistance mail us at: info@indian-tours.in
GALLERY / PHOTOS