Australia tour packages from Chennai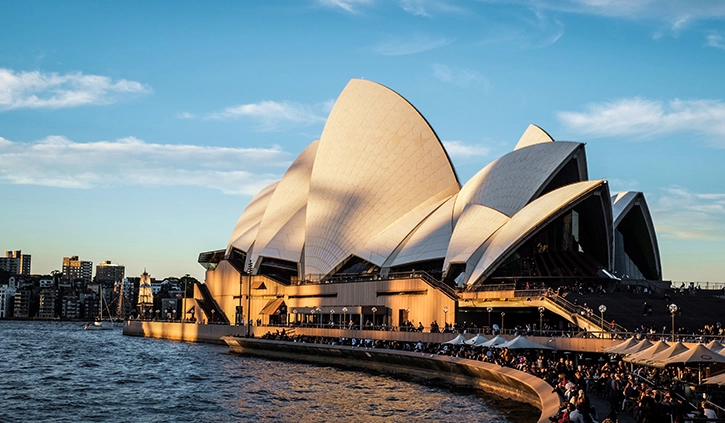 Introduction
Are you looking for a thrilling adventure that will take you far away from the hustle and bustle of Chennai? Look no further! An Australia tour package may just be what you need. With its stunning natural wonders, vibrant cities, delicious cuisine, and unique culture, Australia offers an unforgettable travel experience like no other. In this blog post, we'll explore some of the best places to visit in Australia, how to choose the right tour package for your needs and budget, top things to do during your trip Down Under as well as tips for travelling to this amazing country. So buckle up and get ready for an exciting journey with us!
Chennai to Australia tour packages
Are you dreaming of exploring the beautiful continent of Australia from Chennai? Look no further than the many tour packages available to cater to your travel needs. With a plethora of options, choosing the right package can be overwhelming but with careful consideration and research, you are sure to find one that suits your preferences.

Depending on your budget and interests, there are various types of packages such as luxury tours, adventure tours or family-friendly tours. Many tour operators offer customizable packages allowing you to build an itinerary based on your specific requirements.

When selecting a tour package, ensure they include must-visit destinations such as Sydney's iconic Opera House, the Great Barrier Reef in Cairns or Melbourne's vibrant city center. Also look for inclusive activities like wildlife encounters at Kangaroo Island or surfing lessons at Bondi Beach.

Most importantly, research and compare different tour operators before making a final decision. A reputable operator will provide extensive information about their services including accommodation options and transportation arrangements ensuring a smooth experience throughout your journey from Chennai to Australia.
What are the best places to visit in Australia?
Australia is home to some of the world's most unique and diverse natural landscapes, making it an ideal destination for tourists. One of the must-see places in Australia is Sydney, which offers a vibrant city atmosphere along with iconic landmarks such as the Harbour Bridge and Opera House.

Another popular destination is Melbourne, known for its cultural diversity and art scene. Visitors can explore multiple museums or enjoy a cup of coffee at one of the city's famous laneways.

For those seeking outdoor adventures, Queensland offers stunning beaches and tropical rainforests that are perfect for hiking and exploring. The Great Barrier Reef also attracts snorkelers and divers from all over the world who want to see its impressive marine life up close.

In addition to these destinations, there are plenty more places worth visiting in Australia such as Uluru-Kata Tjuta National Park, Adelaide Hills wine region or Tasmania's Cradle Mountain-Lake St Clair National Park. No matter where you go in Australia, there will always be something amazing waiting for you!
How to choose the right tour package for you
Choosing the right tour package for your Australia trip can be overwhelming. With so many options available, it's important to consider a few factors before making your decision.

Firstly, determine your budget. Some tour packages may include more activities and amenities than others, but they will also come at a higher cost. Decide on how much you're willing to spend before looking into specific packages.

Secondly, decide on what type of experience you want to have in Australia. Do you want a relaxing beach vacation or an adventure-filled trip? Consider the activities and attractions that interest you most and look for tour packages that include them.

Thirdly, do some research on the different tour companies offering packages from Chennai to Australia. Look up reviews from previous customers and ensure they have good ratings and reputations.

Check the itinerary of each potential tour package carefully. Ensure it covers everything you want to see and do in Australia, including any additional costs or hidden fees not included in the initial price.

By considering these factors when choosing your tour package, you can ensure that you make an informed decision that aligns with both your preferences and budget constraints.
Top things to do in Australia
Australia has an abundance of natural beauty and adventure, making it a perfect destination for those who seek thrill and excitement. Here are some top things to do in Australia:

1. Explore the Great Barrier Reef: This World Heritage-listed site is home to thousands of marine species, offering snorkeling and diving opportunities.

2. Visit Uluru-Kata Tjuta National Park: Witness the stunning colors of Ayers Rock (Uluru) at sunrise or sunset, take a helicopter tour or explore Kata Tjuta on foot.

3. Go on a road trip along the Great Ocean Road: Take in spectacular coastal scenery featuring towering cliffs and rock formations like Twelve Apostles.

4. Experience wildlife encounters: Get up close with kangaroos, koalas, wombats and other native animals by visiting sanctuaries like Lone Pine Koala Sanctuary or Healesville Sanctuary.

5. Enjoy world-class wine regions: Sip your way through Australian wines while touring scenic vineyards in Barossa Valley or Margaret River.

6. Surf iconic beaches: Catch world-famous waves at Bondi Beach or Bells Beach where international surf competitions are held annually

7. Camp under starry skies: Spend a night camping out in nature's tranquility surrounded by breathtaking views from Kakadu National Park to Wilsons Promontory.


Australia offers endless possibilities for exploration that appeal to all types of travelers seeking immersive experiences that will leave lasting memories!
Australian food and culture
Australia is a country that has a unique blend of cultures and ethnicities, which reflects in its food. Australian cuisine takes inspiration from different parts of the world, including Europe, Asia and the Middle East. The most popular Australian dishes include meat pies, barbecued sausages (known as "snags"), fish and chips, lamingtons (a type of cake), pavlova (meringue dessert) among others.

The indigenous people of Australia, also known as Aboriginal Australians or simply aborigines have their own traditional cuisine such as kangaroo meat and damper bread. They believe that food is not just for sustenance but can be used to heal both body and soul.

In terms of culture, Australia's history dates back more than 60 thousand years when the aboriginal inhabitants first arrived on this land. Today's modern Australia welcomes immigrants from all over the world who bring with them their own traditions and cultures making it one of the most multicultural countries in the world.

Australians are easy-going people who enjoy outdoor activities such as surfing, cricket or rugby matches followed by a cold beer at a local pub with friends or family. A typical day in Australia involves enjoying good company while indulging in delicious food often cooked on an open grill known locally as a 'barbie'.

Experiencing Australian culture through its culinary delights is something that should not be missed when visiting this beautiful country!
Tips for travelling to Australia
Travelling to Australia can be an exciting and memorable experience, but it's essential to take some precautions before embarking on your journey. Here are some tips for a hassle-free trip:

Firstly, obtaining the right visa is crucial. Non-Australian citizens require a valid visa or Electronic Travel Authority (ETA) to enter the country. Make sure you have all necessary documents in place before departure.

Secondly, pack smartly and sensibly. Australia has diverse weather conditions across its different regions, so always check weather forecasts beforehand and pack accordingly. Don't forget essentials such as sunblock and insect repellent.

Thirdly, understanding Australian customs can help avoid misunderstandings or cultural faux pas while travelling through the country. Dress modestly when visiting sacred sites or religious places of worship.

Fourthly, travellers must adhere to strict biosecurity laws that prohibit bringing certain items into Australia such as fresh food products like fruits and vegetables.

It's important to stay safe while exploring this vast continent; always keep track of your belongings and avoid walking alone at night in unfamiliar areas or deserted beaches. Following these tips will ensure a pleasant visit Down Under!
Conclusion
Australia is a beautiful country with unique experiences waiting for every traveler. From its stunning landscapes, diverse wildlife, and rich cultural heritage to its bustling cities, there's something for everyone in Australia.

If you're planning a trip from Chennai to Australia, consider booking a tour package that suits your preferences and budget. Look out for the best deals on flights and accommodations while choosing your itinerary.

Don't forget to research Australian culture and customs before you go. Take note of the dos and don'ts while traveling in Australia so that you can have an enjoyable experience without any hiccups.

Visiting Australia from Chennai is sure to be an unforgettable adventure full of exciting discoveries. So pack your bags - the land down under awaits!
Program
( 10 days / 9 nights )
FREQUENTLY ASKED QUESTIONS
INCLUSIONS/EXCLUSIONS
Travelling to Australia can be an exciting and unforgettable experience. However, it is essential to keep in mind some tips that will help you make the most of your trip.
Firstly, remember to pack appropriately for the weather conditions as they can vary greatly depending on the region you are visiting.
TERMS AND CONDITIONS
CANCELLATION AND REFUND:
Cancellations prior to 10 days from the start of the trek are entitled to a full refund(excluding the transaction charges)Cancellation between the 9th day and the 3rd day to the start of the trek will have an 80% refund. Cancellation less than 3 days to the start of the trek will have NO refund. For any assistance mail us at: info@indian-tours.in
GALLERY / PHOTOS