Paris Tour Package from India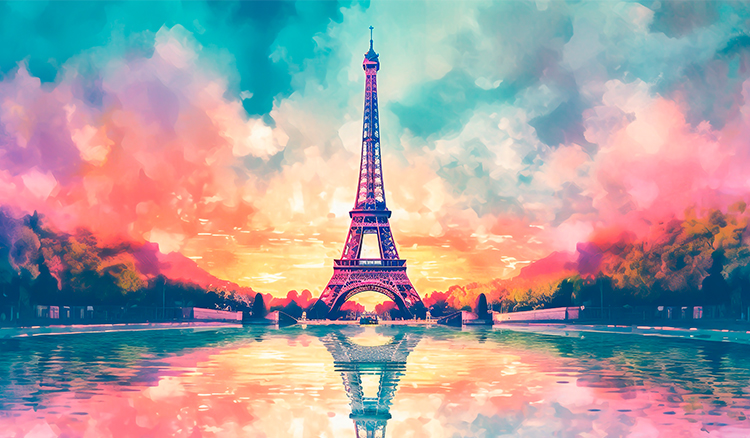 Introduction
Are you dreaming of strolling down the charming streets of Paris, admiring the Eiffel Tower and indulging in delicious French cuisine? Look no further than a Paris tour package from India! This romantic city is a must-visit destination for anyone seeking art, culture, history and glamour. With so much to see and do in this iconic metropolis, planning your trip can be overwhelming. In this blog post, we'll guide you through everything you need to know about flights, accommodation, sightseeing and more. Get ready to fall head over heels for the City of Love!
Flights to Paris from India
Paris, the city of love and romance, is a dream destination for many Indian travelers. If you're planning a trip to Paris from India, one of the first things you need to consider is your flight options.

Fortunately, there are several airlines that offer flights from major cities in India to Paris. Some popular choices include Air France, Emirates, Qatar Airways and Etihad Airways. The duration of these flights can vary depending on your departure city and airline choice but generally takes around 10-12 hours.

When booking your tickets, it's important to keep an eye out for deals or promotions which could save you money. It's also advisable to book well in advance since last-minute bookings tend to be more expensive.

It's essential that you have all the necessary travel documents including a valid passport with at least six months validity remaining before expiration date along with any required visas or permits.

Lastly - don't forget about baggage restrictions! Different airline companies will have varying policies on weight limits so make sure you check this information beforehand as additional fees may apply if exceeded.
Accommodation in Paris
Paris is known for its luxurious and chic lifestyle, which extends to its accommodation options as well. From grand hotels with stunning views to quaint boutique hotels with a cozy ambiance, there are plenty of choices when it comes to finding the perfect place to stay in Paris.

For those seeking luxury accommodations, there are many five-star hotels located in prime locations throughout the city. These hotels offer amenities such as spas, fitness centers and Michelin-starred restaurants. Many also feature rooms with breathtaking views of iconic landmarks like the Eiffel Tower or Notre Dame Cathedral.

However, if you're looking for something more affordable but still comfortable and stylish, there are plenty of mid-range options available too. Boutique hotels that showcase local artwork and décor can provide an authentic Parisian experience while being easy on your wallet.

If you prefer more independent living arrangements during your trip, renting an apartment or booking an Airbnb could be a great option. This allows you to truly immerse yourself in local culture by shopping at markets and preparing meals in the comfort of your own space.

No matter what type of accommodation you choose in Paris, make sure it's centrally located so that you can easily explore all that this incredible city has to offer!
Sightseeing and activities in Paris
Paris is a city that's rich in history and culture, with plenty of sightseeing and activities to keep visitors entertained. One must-visit spot is the iconic Eiffel Tower, which offers stunning views of the city from its observation deck. The tower also lights up at night, making for an unforgettable experience.

Another popular attraction is the Louvre Museum, home to some of the world's most famous works of art such as Leonardo da Vinci's Mona Lisa. Other museums worth visiting include Musée d'Orsay dedicated to impressionist and post-impressionist art.

For those looking for something more lighthearted and entertaining, Disneyland Paris should be on your list. It features thrilling rides, shows and parades suitable for all ages.

If you're looking for outdoor activities in Paris then Parc des Buttes-Chaumont or Jardin du Luxembourg are great options. They offer beautiful gardens where one can relax or have a picnic while admiring a fantastic view over Paris skyline.

Take an evening boat tour along River Seine offering spectacular sunset views paired with wine tasting experiences showcasing French wines alongside local cheese platters.

With so much going on in this vibrant city there's never any shortage of things to see or do!
Shopping in Paris
Paris is a shopper's paradise with its plethora of designer boutiques, high-end department stores and quaint street markets. The city offers some of the best shopping experiences in the world with a mix of traditional and modern outlets.

One must visit the famous Avenue des Champs-Élysées for luxury shopping which houses flagship stores such as Louis Vuitton, Chanel and Dior. For those looking for more affordable options, Rue de Rivoli has a range of mid-range shops like Zara and H&M.

Le Marais is a fashionable district that offers trendy clothing boutiques, unique souvenir shops along with vintage clothing outlets. The Saint-Ouen Flea Market is another great place to shop where one can find antiques, furniture items, vintage clothes and accessories.

Foodies can indulge in gourmet food products at Rue Cler or Marché d'Aligre while book lovers can explore Shakespeare & Company bookstore. One must also try out macarons from Ladurée or Pierre Hermé which are renowned worldwide.

Shopping in Paris can be an expensive affair but one doesn't necessarily have to break their bank account here. It's about finding the right balance between quality and price while enjoying this unforgettable experience!
Food and drink in Paris
Paris is known as the food capital of the world, and for good reason. From croissants to macarons, Paris offers a diverse range of culinary experiences that will tantalize your taste buds.

One must-try dish in Paris is the French Onion Soup, which consists of a rich broth made from caramelized onions, topped with melted cheese and croutons. Another popular dish is escargots (snails), usually served with garlic butter.

You can also find delicious pastries at every corner bakery in Paris. Croissants are a staple breakfast item in France and come in many variations such as plain or filled with chocolate or almond paste. For dessert, don't miss out on trying macarons - delicate cookies made from ground almonds sandwiched together with various flavored fillings like raspberry or salted caramel.

As for drinks, wine lovers can indulge themselves as there are over 40 different regions producing wine across France. Champagne is another popular drink that originates from the Champagne region northeast of Paris.

If you're looking for something non-alcoholic to quench your thirst after all that eating, try some Orangina or Perrier sparkling water – two iconic French beverages found everywhere in Paris!

Dining in Paris should definitely be an unforgettable experience during your trip!
Tips for Travelling to Paris
Tips for Travelling to Paris

To make your trip to Paris hassle-free, here are some tips that you can follow:

1. Plan ahead: Research about the city and make a list of places you want to visit before arriving in Paris.

2. Learn basic French phrases: Though English is widely spoken in tourist areas, learning some basic French phrases will help you communicate better with locals.

3. Dress appropriately: Parisians have a keen sense of fashion, so it's advisable to dress smartly and avoid wearing shorts or flip-flops while visiting museums or churches.

4. Use public transport: The Metro is an affordable and efficient way to travel around the city. You can also rent bikes if you prefer cycling.

5. Be aware of pickpockets: As with any major tourist destination, be cautious when carrying valuable items like passports and wallets in crowded areas.

6. Try local food: Don't miss out on trying traditional French dishes like croissants, escargots (snails), and macarons during your stay in Paris.

7. Respect cultural differences: Remember that France has its own culture and customs, so respect them by being polite and courteous towards locals.

By following these tips, you'll be able to enjoy your trip to the fullest without worrying about anything else!

Bon voyage!
Conclusion
After reading this article, it's clear that Paris is a must-visit destination for anyone traveling from India. With plenty of flights available and affordable accommodation options, getting to Paris is easier than ever before.

Once you arrive in the City of Lights, there are endless sightseeing opportunities waiting for you - from iconic landmarks like the Eiffel Tower and Arc de Triomphe to world-renowned museums such as the Louvre and Musée d'Orsay. And let's not forget about the amazing shopping and delicious food that Paris has to offer.

If you're planning a trip to Paris from India, it's important to do your research beforehand. Make sure you have all necessary travel documents and plan out your itinerary ahead of time so that you can make the most of your visit.

A tour package to Paris from India will provide an unforgettable experience filled with culture, history, and adventure. Don't miss out on the opportunity to explore one of Europe's most beautiful cities!
Program
( 10 days / 9 nights )
FREQUENTLY ASKED QUESTIONS
INCLUSIONS/EXCLUSIONS
One-way Airport/Station Transfers on Pvt. Basis.
02 Nights Hotel Stay in Disneyland Outskirts Area
02 Days 2 Parks Tickets
TERMS AND CONDITIONS
CANCELLATION AND REFUND:
Cancellations prior to 10 days from the start of the trek are entitled to a full refund(excluding the transaction charges)Cancellation between the 9th day and the 3rd day to the start of the trek will have an 80% refund. Cancellation less than 3 days to the start of the trek will have NO refund. For any assistance mail us at: info@indian-tours.in



GALLERY / PHOTOS