Gaumukh Tapovan Trek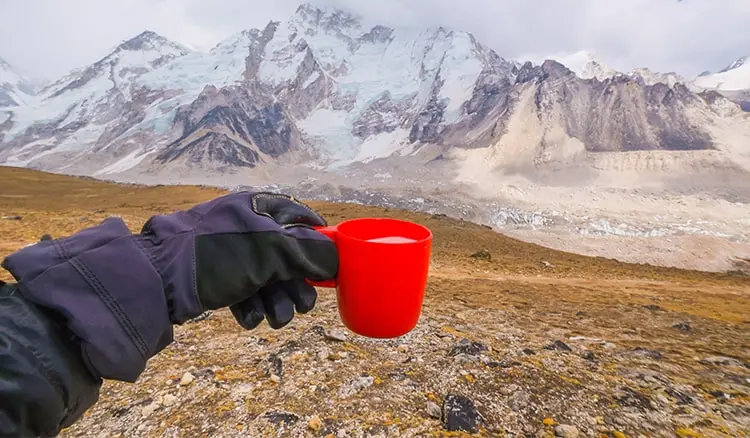 Gaumukh Tapovan Trek
Are you planning a visit to Tapovan in Uttarkashi, India this hiking season? Well, the only way to ensure your trek is a successful one is with thorough preparation and guidance. The Tapovan Trek Guide from Gaumukh makes it easy for you to prepare for the trek by providing maps, step-by-step directions and helpful tips for planning ahead.
About Tapovan
Tapovan is an ideal location for hikers and mountaineers looking for peace and adventure. It's located on an altitude of 4463m / 14640ft above sea level, 18 kms downstream from Gaumukh, and is a key pilgrimage site in Uttarakhand. Tapovan is also home to the Gangotri glaciers, the original source of the sacred river Ganges. Every year, this place is visited by thousands of tourists including foreigners for Adventure activity like mountaineering and trekking.
The Gaumukh Tapovan trek is a scenic trek with nature's bounty and jaw-dropping views. It offers breathtaking views of the Gangotri peaks - Shivling, Thalay Sagar, and Meru. Take a dip in the holy Bhagirathi River, which is considered one of the sacred rituals. During the Gomukh glacier trek, one can also immerse in the divine aura of the pilgrim cities- Rishikesh, Uttarkashi, Gangotri, and Bhojwassa. Marvel at the sight of the Bhagirathi sisters to experience the summit views.
About the Gangotri area
The Gangotri area is located in the northern part of India and is known for its stunning views of mountains. The area is also home to the source of the river Bhagirathi, which is considered one of the four Dhams (the others being Yamunotri, Badrinath, and Kedarnath). The area can be reached after an 18-kilometer trek from Gangotri. Some of the amazing sights that can be seen in the area include Mt. Shivling and the Bhagirathi group of mountains, Tapovan meadow, and Vasuki Tal lake.
Quick Facts About Gangotri Tapovan Trek
| | |
| --- | --- |
| Area : | Garhwal Himalayas |
| Duration : | 8 Days/7 Nights |
| Altitude : | 4463 mts/14638 ft |
| Grade : | Moderate to Tough |
| Gomukh Trek route distance : | 46 Km |
| Temperature: Day : | 18°C to 12°C and Night: 5°C to -5°C |
| ATM : | Uttarkashi |
| Start Point/End Point : | Gangotri |
| Season : | Mid April, June & August - Mid Oct |
What is the best time to do Gaumukh Tapovan trek?
If you're looking for a challenging trek to do in India, the Gaumukh Tapovan trek is the perfect option. The trail is Located at only 35kms from Dehradun, and it takes about 10 days to complete. The best time to do the trek is between May and July, and between September and October. This is because the weather during these months is warm and sunny, with little chance of rain.
How to reach Gangotri
There are a few ways to get to Gangotri: by air, by road, or by rail. Each has its own advantages and disadvantages. To reach Gangotri by air, you'll need to fly into Jolly Grant Airport. This airport is located around 250 kilometers away from Gangotri. To reach Gangotri by road, you'll need to take a bus or a private vehicle. The journey from Rishikesh takes about 12 hours. Taxi/jeeps are also available from Taxi Stations in Rishikesh, Haridwar & Dehradun. Tourist cabs are available from Dehradun/Rishikesh. To reach Gangotri by rail, you'll need to travel to Rishikesh railway station. From there, you can take a train to any destination in India. The nearest railway station to Gangotri is Rishikesh 234 km before Gangotri on NH58 and is well connected by railway network with major destinations of India. Trains to Rishikesh are frequent.
What will the temperatures be like on Gaumukh Tapovan trek?
The temperatures on the Gaumukh Tapovan trek will be different during the summer and autumn seasons. In the summer, the temperatures can be pretty unstable, with chances of rain or snowfall. The daytime temperatures at Bhojbasa and further are pleasant around 15° C, but at night the temperature can drop close to 0 °C and campsites get chilly. In autumn, the temperatures are stable, but there is a perceptible gap between daytime and nighttime temperatures. You'll find the days are pleasant at around 15° C. But the temperature quickly drops below zero after sundown. Temperatures can go as low as 3-5 °C below zero at night in Tapovan.
Why fitness matters on the Gaumukh Tapovan Trek
The Gaumukh Tapovan trek is a moderate-difficult trek that will take you about 8-12 km each day. During the trek, you'll walk on steep ascents and descents, and you'll also be expected to reach high altitudes. This means that your fitness level will be important on this trip. In order to comfortably complete the trek in less than 32 minutes, you'll need to be able to run 5 km within that time frame. If you're ready for a challenge, the Gaumukh Tapovan trek is definitely worth trying!
Know Before You Go for Gaumukh Tapovan Trek
Before embarking on the Gaumukh Tapovan Trek, it is important to be aware of some key points. First and foremost, take note of the different climatic conditions that prevail in the high altitudes. Second, be aware of the time required to get acclimatized to the altitude. Third, be sure to consult a physician before travelling to avoid any potential health complications. Fourth, be aware of the guidelines issued by the state government in case of an emergency or natural calamity. Fifth, be mindful of your fellow trekkers and respect their privacy. Finally, make sure you bring along everything you need for a comfortable stay including dry snacks and water bottles. And lastly, keep in mind that children below the age of 7 are not recommended for this hike due to its challenging terrain. If you are up for a challenge, then book your tickets today!
Things To Carry for Gaumukh Tapovan Trek
Gaumukh Tapovan Trek is a great way to experience the Himalayas. However, to enjoy the trek fully you need to be prepared for all types of weather conditions. Here is a list of things you should bring with you on the trek:
Warm clothes: You will need clothes to wear when it's cold and when it's hot. Bring a heavy coat, cap, and gloves if necessary.
Caps: You will need a cap to keep your head warm during the night.
Back pack (50-60l): This pack should be large enough to carry all of your food and water for the day, as well as your camping gear.
Day pack (20-30l): This pack should be small enough to carry only the essentials for the day, such as water, sunscreen, hats, and sunscreen lotion.
Water bottle: Drink plenty of water throughout the day to stay hydrated.
Extra pair of socks: In case your boots get wet or dirty.
Fleece jackets and thermals: Wear jackets and thermal clothing when it's cold outside.
Hiking shoes: Wear hiking shoes when hiking on the trails. They will make the trek easier and more comfortable.
Mosquito repellent
Best regions for trekking in tapovans
The Tapovan Trekking Route is one of the most popular treks in the Himalayas. It commences from the town of Tapovan in the Uttarkashi district of Uttarakhand and traverses through stunning landscapes of pine forests, meadows, rivers and glaciers. Gaumukh is one of the best regions to trek in tapovans as it is full of interesting attractions like alpine meadows, glaciers and ravines. Here are some tips on how to make the most of your trek:
Choose a good guide - A good guide will ensure that you enjoy your trekking experience. Choose someone who has extensive knowledge about the region and is able to cater to your specific needs.

Prepare properly before starting your trek - Ensure that you have all the necessary supplies before starting your trek. This includes proper clothing, camping gear, food and water supplies etc. Make sure you take enough rest days too so that you can fully enjoy your journey.

Plan your route carefully - Planning your route is key to ensuring a successful trekking experience. chart out a path beforehand and avoid travelling off-road as much as possible. Always carry an emergency whistle
Program
( 08 days / 07 nights )
Day1

Dehradun to Gangotri drive

Day2

Gangotri (3,048 m) to Chirbasa (3,600 m) - 6 hours trek

Day3

Chirbasa to Bhojbasa (3,800 m) - 3 hours trek

Day4

Bhojbasa to Gaumukh (3,900 m) to Tapovan (4,335 m)- 7 hours

Day6

Tapovan to Bhojbasa- 6 hours

Day7

Bhojbasa to Gangotri- 5 hours

Day8

Gangotri to Dehradun drive
FREQUENTLY ASKED QUESTIONS
INCLUSIONS/EXCLUSIONS
Stay
Accommodation will be in tents/guesthouses on sharing basis.
Meals
(Breakfast, lunch, snacks, and dinner).
Permits
All trekking permits and forest camping
Tour Leader
Experienced trek Leader and Guide
Activities
Trekking, Camping, and Bonfire etc
TERMS AND CONDITIONS
CANCELLATION AND REFUND:
Cancellations prior to 10 days from the start of the trek are entitled to a full refund(excluding the transaction charges)Cancellation between the 9th day and the 3rd day to the start of the trek will have an 80% refund. Cancellation less than 3 days to the start of the trek will have NO refund. For any assistance mail us at: info@indian-tours.in

DISCLAIMER:

This activity is hugely dependent upon weather. The trip may get canceled without any prior notice due to weather or any unforeseen adverse circumstances
GALLERY / PHOTOS