Rudranath Trekking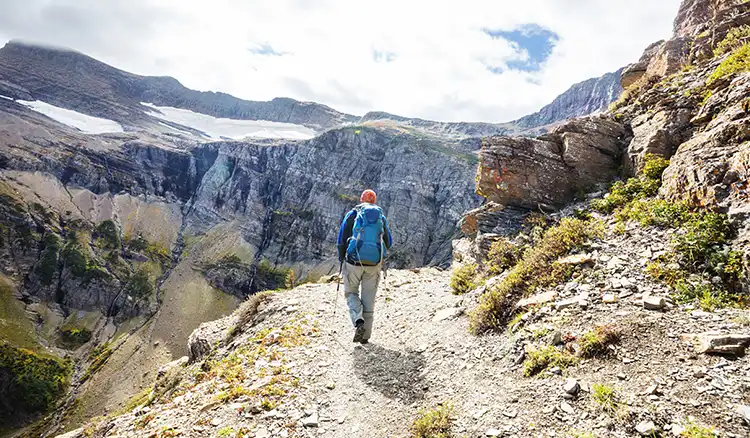 Rudranath Trekking is one of the most attractive treks in the Panch Kedar Trekking of Uttarakhand. It has a high altitude, so it's ideal for those with a good level of fitness, who are experienced outdoorsmen. Here you will find everything you need to know about Rudranath Trek route and travel tips - when to go and what to pack!
The journey to this temple can be started either from Sagar village, Helang or Urgam village. However, if you're looking for a tough challenge, then the Rudranath temple is definitely worth visiting. The Himalayan peaks adding to the glory of Rudranath make it one of the most revered temples in Panch Kedar pilgrimage.
History of Rudranath
The Rudranath Trekking Guide is a compilation of travel tips and history of Rudranath, a sacred mountain in the Himalayas. The mountain is said to be the abode of Lord Shiva. It is one of the most popular treks in the region and has been visited by many people since its discovery over a century ago.
To reach the Rudranath Temple, you have to travel 20 kilometres (total 40 kilometres) on foot. You should have at least 4 – 5 days for the complete visit to Rudranath temple so that you can complete your walking tour of this temple without any hassle.
Why you should plan Rudranath Trek?
If you're looking for a truly breathtaking experience, then the Rudranath temple trek is definitely worth considering. Not only is it one of the toughest treks to reach, but it's also packed with fascinating attractions. You can indulge in the blissful morning aarti performed at the Rudranath temple which generally starts from 8 am, and the evening aarti that takes place at 6:30 pm every day. Sit beside the sparkling Vaitarini River also known as the 'Water of Salvation' and hear the music of the placid river flowing by. There are three different trek routes to reach Rudranath, and every trek offers different landscapes and beauty. For example, there is a prominent saying for Rudranath Trek amongst local people - "Rudranath ki Chadai, German ki Ladai", considering its lofty course.
Rudranath Trek Route
Rudranath Trek 01 – Sagar Village – Litti Bugyal – Panar Bugyal – Pitrudhar – Rudranath
Rudranath Trek 02 – Helang – Urgam – Kalpeshwar – Dumak – Bansi Narayan – Panar – Rudranath
Rudranath Trek 03 – Mandal Village – Anasuya Temple – Hansa Bugyal – Naula Pass – Rudranath
Rudranath Temple Walk
The temple is dedicated to the Hindu god Shiva and is one of the most visited places in Rudraprayag.
The Rudranath Temple Walk is a 2-3 hour walk that leads to the temple from the town centre. The route winds through dense forest and takes you past several holy water springs, temples and lakes. There are plenty of opportunities to stop and take photos along the way.
Some tips for visiting the Rudranath Temple
Arrive early in the morning or during evening hours to avoid crowds
Bring drinking water, snacks and sunscreen
Dress modestly (no short skirts, tank tops or tight clothing)
Be respectful of local traditions and customs (no photography of statues or other religious sites without prior permission)
Take care when crossing roads - watch for vehicles coming from either direction and make sure you have seen pedestrians crossing in front of you.
Stay on the trails - don't wander off into the woods.
Leave any litter behind - it will help maintain these beautiful forests.
How to reach Rudranat
How to reach Rudranath by Air
The distance from Dehradun Airport to Rudranath (Gopeshwar) is 258 kilometres. To reach Rudranath by air, you will first have to reach Gopeshwar. Gopeshwar is a town located at a distance of 05 km from Rudranath. From Gopeshwar, you can start the track of Rudranath by reaching Sagar village. Sagar is located at a distance of 24 km from Rudranath.
How to reach Rudranath by Train
If you're looking to visit Rudranath, you can reach it by train. The nearest railway stations are Haridwar, Rishikesh, and Dehradun. However, the distance from Rishikesh railway station to Rudranath (Gopeshwar) is only 241 kilometres. From major cities of the country, you will get regular rail service to Rishikesh. If you're looking for a more scenic route, you can start the track of Rudranath at Sagar village, located at a distance of 05 km from Gopeshwar. Rudranath walk is 24 kilometres from Sagar village.
How to reach Rudranath by Road
If you want to visit Rudranath, you can do so by car. There are several routes that you can take to get there. The most direct route is from Haridwar, Rishikesh, and Dehradun. You can take regular bus and taxi services from these cities to Sagar village, which is located 05 km from Rudranath. From Sagar village, you can follow the walking trail that begins right near the village center.
Best Time to Visit
Looking for a peaceful and adventurous journey towards Himalayas, it is best trek to visit in March to May and June to October. You will get to see snowcapped mountains throughout the year
Activities in Rudranath
If you're looking for some activity that won't require a lot of travel, consider visiting Rudranath. This temple is home to several attractions, including the local temple and scenic Lyuti Bugyal and Panar Bugyal. While trekking, be sure to explore the region around the temple. There are several small pools named after important Hindu deities, such as Surya Kund, Chandra Kund, Tara Kund, and Manas Kund.
Rudranath Travel Tips
The temple remains closed from November to April due to heavy snowfall.
The morning aarti at the sacred Rudranath Temple starts at 8am and evening aarti is performed at 6:30 pm everyday.
The trail leading to Rudranath is challenging and risky but equally rewarding.
It is wise to check with local authorities, tour guides or tour operators about the weather and road conditions during monsoons before you actually start your trek.
Having an experienced trekking guide with you is always helpful as the guide would know the route very well and trekkers won't lose their way and be stranded.
Program
( 05 days / 04 nights )
Day1

Rishikesh to Sagar village

Day2

Sagar-Pun Bugyal-Panar Bugyal

Day3

Panar Bugyal - Rudranath

Day4

Rudranath to Sagar Gaon

Day5

Sagar village to Rishikesh
FREQUENTLY ASKED QUESTIONS
TERMS AND CONDITIONS
CANCELLATION AND REFUND:
Cancellations prior to 10 days from the start of the trek are entitled to a full refund(excluding the transaction charges)Cancellation between the 9th day and the 3rd day to the start of the trek will have an 80% refund. Cancellation less than 3 days to the start of the trek will have NO refund. For any assistance mail us at: info@indian-tours.in

DISCLAIMER:

This activity is hugely dependent upon weather. The trip may get canceled without any prior notice due to weather or any unforeseen adverse circumstances
GALLERY / PHOTOS