Triund Trek Booking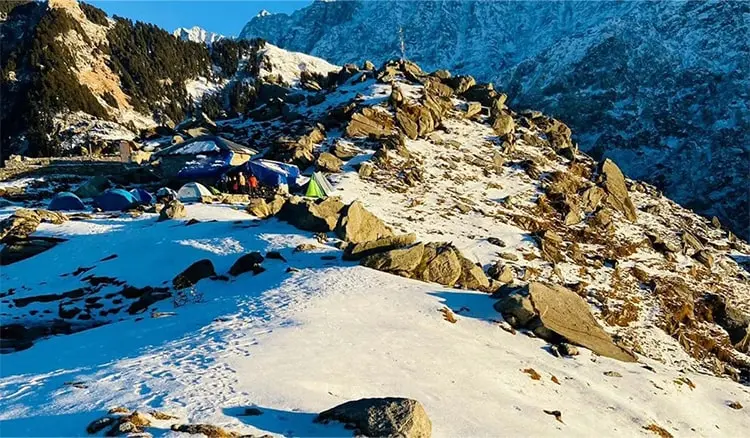 Triund is among the most popular trekking destinations in Dharamshala. It's located about 2,850 meters above sea level. The majority of people visit it by way of Dharamkot but our website gives an unbeatable view because we take our guests from the opposite side , which is not as well-known. From this view, you is able to capture the stunning views from Dhauladhar Mountains as well as Kangra Valley. It is possible to experience the adventure of hiking to Triund from the Thatri the village's end. It takes about 5-6 hours to get to Triund from here , based on your speed of walking.
Triund serves as the entrance to the stunning and rugged mountain pass known as Indrahara pas. Triund and over there are large grasslands in which people can observe numerous shepherds grazing their the herds of goats and sheep.
Program
( 2 days / 1 nights )
Day1

Mcleodganj to Triund Hill (4-5 hours of trekking)

At 9 AM, you can start your trek from Bhagsu Nag Triund (2875 m).
Start your trek from Mcleodganj. You can reach Bhagusu Na and then hike from Bhagsu Nah. It is a magical experience to walk through dense forests of Oak, Rhododendron and deodar. This alpine meadow overlooks the snow-capped peaks at Dhauladhar. The Kangra Valley can be seen from the opposite side. We will then rest for the night after dinner and star gazing at our beautiful mountain lodge.

Day2

Triund Hill to Snowline and back to Mcleodganj (4-5 hours of trekking)

Get up early and see the sunrise over the majestic mountains and Kangra Valley. The finest thing is to be with your own. If you want to visit Snow Line (5Kms), then leave early in the morning from Triund. Else To reach Bhagsu Nag village, it will take approximately 4 to 5 hours. You can also stop at Lahesh cave on the way. Bhagsu Waterfall will be visible. This is the end of your Triund Trek
FREQUENTLY ASKED QUESTIONS
Each trekker is responsible for his/her own safety. Trek organizers, guides, porters will not be responsible for any damage, theft, or loss of goods.
You will be provided with a sleeping bag, tent accommodation, food, guidance, and a dry pit toilet as per the plan. No other facilities can be provided.
TERMS AND CONDITIONS
CANCELLATION AND REFUND:
Cancellations prior to 10 days from the start of the trek are entitled to a full refund(excluding the transaction charges)Cancellation between the 9th day and the 3rd day to the start of the trek will have an 80% refund. Cancellation less than 3 days to the start of the trek will have NO refund. For any assistance mail us at: info@indian-tours.in

DISCLAIMER:

This activity is hugely dependent upon weather. The trip may get canceled without any prior notice due to weather or any unforeseen adverse circumstances
GALLERY / PHOTOS