Camping in Nainital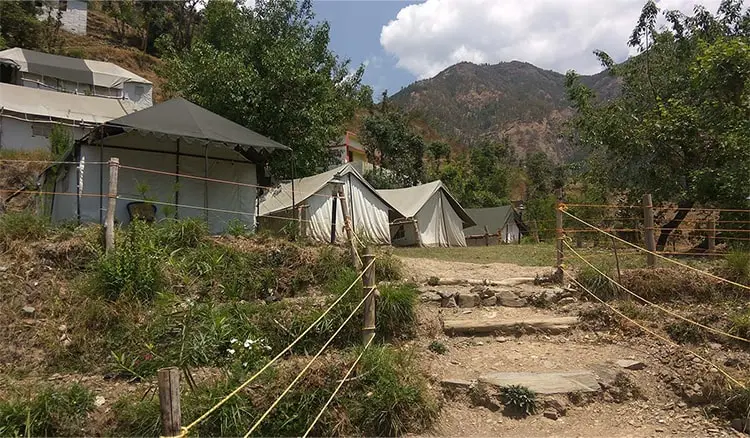 Camping in Nainital – IndianTours
If you're looking for a weekend getaway in the beautiful Indian state of Nainital, then you need to check out Indian Tours! Our team of experienced travel experts have put together some amazing campsites and hotels in the area, all with stunning views of the Nainital Lakes. With so much to see and do in this beautiful part of India, don't wait any longer - book your tickets today!
History of Nainital
Nainital was known as a summer resort in British India from the late 1800s. It became popular with the British army when officers were transferred to the area for rest and recreation. The town, which is located in the Kumaon region of Uttarakhand, has retained much of its colonial architecture. Today, Nainital is a popular tourist destination, famous for its natural beauty and peaceful atmosphere. It is a great place to take a break from the hustle and bustle of everyday life and relax in nature.
What is camping?
Camping is a recreational activity where people go outside their usual environment, usually in search of natural or man-made attractions. Campsites are typically located in forests, on beaches, beside rivers, or high in the mountains.
Some people use camping as an alternative to conventional hotels. They can save money by camping instead of staying in a hotel that may have more expensive rates.
There are a variety of reasons why people camp. Some enjoy the sense of independence and freedom that camping provides. Others use it as an opportunity to get away from technology and relax in nature. In some cases, people use camping as a way to connect with nature and learn more about it.
The different types of camping

Camping is a great way to get outside and enjoy nature. There are many different types of camping that you can do in Nainital. Here are three different types of camping that you can do in Nainital:
1) Tent camping: This is the most common type of camping. You can use a tent to sleep in or use it as a shelter from the weather. Tents are very portable so you can take them with you wherever you go.
2) Camping in cabins: If you want more privacy than Tent camping offers, then you should consider camping in cabins. Cabins are usually set up near lakes or rivers and have all the amenities that you need, such as bathrooms and kitchens.
3) Camping on a campground: If you want the convenience of a cabin but don't want to spend a lot of money, then consider camping on a campground. Campgrounds usually have more facilities than just cabins, such as bathrooms and kitchens.
How to Pack for a Camping Trip to Nainital
Camping in Nainital is a great way to experience the beauty of the Indian Himalayas. Here are some tips on how to pack for a camping trip to Nainital.
- Make sure you have enough food and water. Pack enough food for the duration of your trip, as there may not be any stores or restaurants nearby. Bring plenty of water too, as there is a danger of getting dehydrated in the high altitude environment.
- Be prepared for changing weather conditions. The weather in the Indian Himalayas can be unpredictable, so make sure you have appropriate clothing and gear for both hot and cold weather conditions. Bring a good sleeping bag and mat, as well as warm clothes for evenings and cooler clothes for mornings.
- Make sure your vehicle is in good condition. If you're driving your own car, make sure the tires are in good condition and that the battery is fresh. Check the fluids and brakes too - these will all need to be ready in case of an emergency.
Camping in Nainital: Tips for a Great Trip
Planning a camping trip to Nainital can be a lot of fun, but it's important to know what to expect. Here are some tips for a great camping experience in Nainital:
-Choose a campsite well in advance. Nainital is popular, and the park can fill up quickly.
-Pack light. You'll be able to pack more if you're willing to carry your supplies on your back or on your bike.
-Bring plenty of water and snacks. The park is hot and dry, so bring enough fluids and snacks to last the day.
-Be ready for the weather. The mountains in Nainital can be chilly at night, so dress for the conditions. If it's hot during the day, bring enough sunscreen and hats.
-Enjoy the scenery! Camping in Nainital is a great way to see some of India's most beautiful scenery.
Camping in Nainital: Tips for a Great Trip
If you're looking for a beautiful location to take in the views and experience the natural beauty of Nainital, the best time to visit is during the summer months. Temperatures are usually mild and there is little chance of rain or snow. However, winter is also a good time to visit as the hills are covered in snow and it can be quite picturesque.
Top 4 Best Campsites in Nainital
Camping is a great way to get out and explore a new location, and Nainital is no exception! we've compiled a list of the top 4 best camping sites in Nainital - from easy-to-access spots near town to more remote locations perfect for hiking or horseback riding. So whether you're looking for an intimate weekend getaway or a family-friendly camping spot, check out our list!
Nature View Camp
Nature View Camp is one of the best camping spots in Nainital. It has panoramic views of the Himalayas and is perfect for hikers and nature lovers.
The camp site is located on a valley floor, with plenty of trees to provide shade. You can also find a stream at the camp site, which makes it perfect for a peaceful picnic. The best part about Nature View Camp is that it isclose to all the attractions in Nainital.
Camp Wildland Nainital
Camp Wildland Nainital is one of the best campgrounds in Nainital. The campground has a wide range of facilities, including a playground, a cricket ground, and a swimming pool. There are also several restaurants and shops .
Dolmaar Riverside Camp
Dolmaar Riverside Camp is a great place to camp in Nainital. The campsite also has several activities available, such as fishing and hiking. There are also several stores and restaurants close by, so you can get everything you need while you're camping.
Overall, Dolmaar Riverside Camp is a great place to camp in Nainital. The beautiful surroundings and variety of activities make it one of the best campsites in Nainital.
Ayar Jungle Camp, Nainital
Ayar Jungle Camp is a great place to camp in Nainital. The campsite is located in the heart of the Ayar Forest, and it offers amazing views of the surrounding area.
Conclusion
If you're looking for a weekend getaway that's both relaxing and adventurous, consider camping in Nainital - a beautiful valley in the foothills of the Himalayas. With dozens of campsites to choose from, IndianTours has everything you need to get out there and experience nature at its finest.

Program
( 2 days / 1 nights )
FREQUENTLY ASKED QUESTIONS
Each trekker is responsible for his/her own safety. Trek organizers, guides, porters will not be responsible for any damage, theft, or loss of goods.
TERMS AND CONDITIONS
CANCELLATION AND REFUND:
GALLERY / PHOTOS