Tarsar Marsar Trek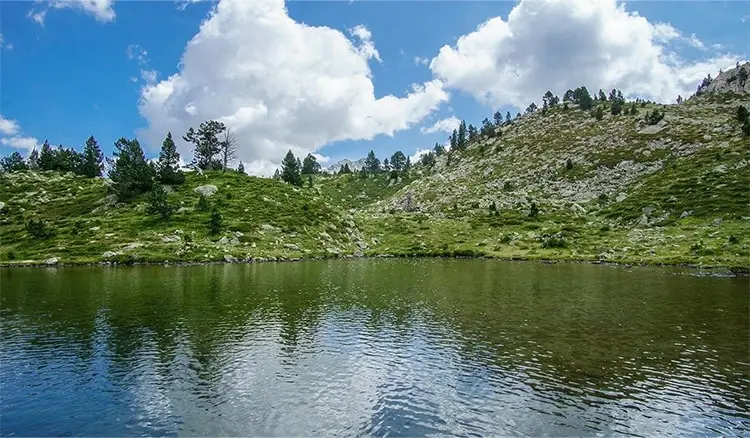 Tarsar Marsar Trek 2022
In the past few years, tourism has taken a strong turn in Jammu and Kashmir and is no longer limited to the Kashmir Valley. Kashmir has always been a tourist destination but it is not just limited to the valley alone. TARSAR-MARSAR Trek 2022 is one of many treks in Kashmir which are becoming quite popular among trekkers across the globe. In this article, we have included enough information about this trip so that you can plan your trip accordingly!
Tarsar Marsar Trek: Quick Facts
| | |
| --- | --- |
| Altitude Range : | 7950 ft to 13,400 ft |
| Location : | Anantnag District, Jammu & Kashmir |
| Duration : | 7 Days/6 Nights |
| Difficulty Level : | Easy to Moderate |
| Total Distance : | 47.6 Km |
| Starting Point : | Srinagar |
| Ending Point : | Srinagar |
| Base Camp : | Aru |
| Best time to Visit : | May to October |
| Temperature : | 15 to18 degrees (Highest), -3 to -5 degrees (Lowest) |
| Nearest Airport : | Sheikh-Ul-Alam International Airport, Srinagar |
| Nearest Railway Station : | Jammu Tawi |
| Nearest ATM : | Pahalgam |
Tarsar Marsar Trek Overview
Tarsar Marsar Trek is an initiative by the government of Jammu and Kashmir to promote tourism in the state. The trek is a well-maintained 8-day journey through the picturesque valleys of Tarsar, Bandipora and Pahalgam in Jammu and Kashmir.
The route passes through dense forests, gushing streams and snow-capped mountains, offering stunning views of Kashmir's glaciers and peaks. The peacefulness of the area makes it an ideal place for nature lovers and hikers.
Why a Trek in Kashmir?
There are a number of reasons why a trek in Kashmir is a great way to experience the beautiful landscape and culture of this region. Firstly, the valleys and mountains of Kashmir are home to some of the most beautiful natural scenery in the world. The snow-capped peaks, rushing rivers, and lush forests are a photographer's dream come true.
Secondly, Kashmir is rich in history and culture. The people of Kashmir are some of the most welcoming and hospitable people on earth, and they will be happy to show you around their amazing country. You'll be able to see traditional villages and learn about the various customs and traditions of the people here.
Finally, Kashmir is one of the most peaceful regions in India. There are few places where you can truly escape the fast-paced modern world, and Kashmir is one of them. A trek in Kashmir will give you a chance to relax and soak up the natural beauty of this special place.
When is the best time to trek in Kashmir?
If you're looking for a scenic hike that will leave you feeling invigorated and content, then look no further than Tarsar Marsar Trek. This hike is the perfect solution if you're looking for some peace and quiet, as it takes place in one of the most beautiful parts of Kashmir. The best time for the Tarsar Marsar trek is from April to September.
What are the different types of treks available in Kashmir?
There are three main types of treks available in Kashmir: hard trekking, easy trekking, and jeep safaris. Hard treks involve a lot of walking and hiking through difficult terrain. They are best for experienced hikers who are prepared to get a bit dirty and sweaty. Easy treks are shorter but do not require as much physical effort. They are perfect for those who want to see some beautiful scenery but do not want to spend a lot of time on their feet. Jeep safaris involve taking a ride on a jeep through scenic areas. They are great for those who want to see more than just the natural beauty of Kashmir but do not want to get out of the car.
No matter what type of trek you choose, make sure to research which routes are open and check weather conditions before setting out. Trekking in Kashmir is an amazing experience that you will never forget!
How to Reach the basecamp
To get to the trek you must reach Srinagar. Don't forget to report at the tourist report center of Srinagar.
To Srinagar
Srinagar is well connected with the rest of the country by train and airways.
By air
Most airlines operate flights to Srinagar's Sheikh-Ul-Alam airport. Metro cities like New Delhi, Chennai, Bangalore, Kolkata, Mumbai are directly connected to Srinagar by air.
By Train
The nearest railway station to Srinagar is Jammu. Jammu is again well connected to major junction stations of India.
From Jammu, one can take a flight to Srinagar which takes merely 40 minutes, or take a direct bus that takes around 10 hrs. Taxi and cabs are other options too taking 8 to 9 hrs to reach Srinagar.
Srinagar to Aru(basecamp)
At Moxtain, we provide you with pick up and drop car service from Srinagar to Aru and Aru to Srinagar.
If you want to arrange transportation on your own, then both shared cab and private cab services are available from Srinagar to Pahalgam. From Pahalgam, you need to change your taxi.
However, no bus service is available to Aru.
What should I know before starting the trek?
Trekking in Jammu and Kashmir is a popular tourist destination in India. However, before you go trekking there, it is important to know a few things.
First of all, make sure you have the proper equipment. You will need sturdy shoes and clothes that can handle the weather conditions. You should also bring along enough food and water to last the duration of the hike.
Secondly, be aware of the local laws and customs. In Jammu and Kashmir, it is customary to pay your respects to respected religious sites on your trek. Also, be aware of cultural norms when interacting with locals. For example, it is polite to ask permission before taking photographs or recording video footage.
Finally, be patient. The trek is a long one, but it is worth it once you reach the beautiful landscapes of Jammu and Kashmir.
Why should you trek to Tarsar-Marsar Lake?
Trekking to Tarsar-Marsar Lake is one of the most beautiful things you can do in Kashmir. The lake is surrounded by snow-capped mountains and is a popular destination for hikers and climbers.
There are several reasons why you should trek to Tarsar-Marsar Lake. First, it is a great way to get out of the city and experience nature. Second, it is a great way to get fit. The hike to the lake will work your muscles and cardiovascular system. Third, it is a great way to relax and enjoy the beauty of nature.
If you are interested in trekking to Tarsar-Marsar Lake, consider contacting a local tour operator. They will be able to provide you with information about the best trails and guide you on the hike.
How long is the trek?
The Tarsar Marsar Trek is a moderate trek that takes approximately 8-10 hours to complete.
What are the highlights of the trek?
The highlights of the Tarsar Marsar Trek are the beautiful Lake Tarsar and the scenic views of the Himalayas. The trek also leads you past some impressive snow-capped peaks.
How much does it cost?
Tarsar Marsar Trek is an adventure activity that you can do in Kashmir. It's a great way to explore the beautiful Lake Tarsar and see some of the most stunning valleys in Kashmir. The cost of the trek is approximately Rs. 12,000 per person, which includes all equipment, food and accommodation. You can also opt for a half-day or full day hike, depending on your interests and time availability.
What should you bring with you for your first trip to Kashmir?
For your first trip to Kashmir, it is important to bring along everything you need. This includes clothes that will keep you comfortable in the hot weather, sunscreen, water, and snacks.
One of the most scenic places in Kashmir is Tarsar Marsar Trek. It is a short hike that will take you to one of the prettiest lakes in the area. Make sure to bring your camera!
Program
( 07 days / 06 nights )
Day2

Trek from Aru to Lidderwat

Day3

Trek from Lidderwat to Shekwas

Day4

Trek from Shekwas to Tarsar

Day5

Trek from Tarsar to Sundersar via Tarsar Pass

Day6

Trek from Sundersar to Homwas via Marsar

Day7

Trek from Homwas to Aru. Drive to Srinagar
FREQUENTLY ASKED QUESTIONS
INCLUSIONS/EXCLUSIONS
Breakfast
Transportation
Stay
TERMS AND CONDITIONS
CANCELLATION AND REFUND:
Cancellations prior to 10 days from the start of the trek are entitled to a full refund(excluding the transaction charges)Cancellation between the 9th day and the 3rd day to the start of the trek will have an 80% refund. Cancellation less than 3 days to the start of the trek will have NO refund. For any assistance mail us at: info@indian-tours.in

DISCLAIMER:

This activity is hugely dependent upon weather. The trip may get canceled without any prior notice due to weather or any unforeseen adverse circumstances