Tadiandamol Trek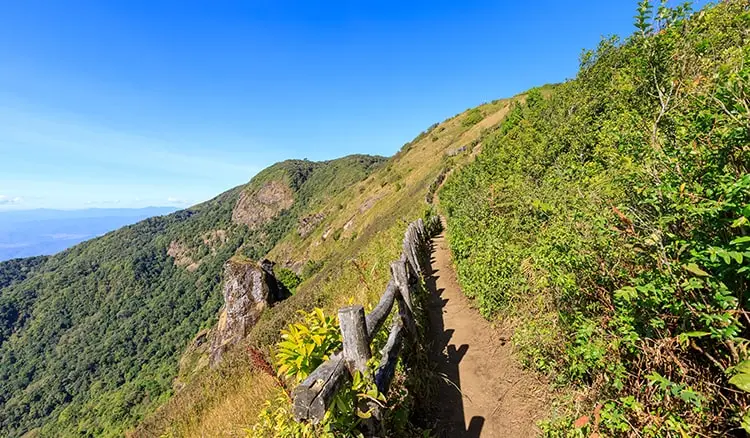 One of the most popular treks in India, Tadiandamol Trek offers breathtaking views of the surrounding hills. This article talks about what this trek is all about, where you need to go and when, how long it'll take, the cost involved and so on. So read on to find out more!
About Tadiandamol Trek Coorg:
The Tadiandamol trekking in Coorg is one of the most sought-after treks in the region. At 1,748 m, it ranks as the highest peak in Coorg and contains the scenic Shola forests. About 274 km from Bangalore, this trek offers an exciting adventure for thrill-seekers who want to explore the wild side of nature. The routes are well marked and provide stunning views of the Western Ghats. Don't miss a chance to visit the Golden Temple. Not only is the temple beautiful, but it's also home to a 40'ft tall golden Buddha statue. If you're feeling adventurous, be sure to take advantage of the tadiandamol trek.
The name Tadiandamol literally means largest base (thadi = broad, large, huge; anda = belonging to (possessive) in Kodava; mol = hill, base, peak). It loosely means Tallest Mount, and the name also could translate as Broad Hill. The origin of the name is not clear, but it is probably derived from the word tadi meaning "broad" or "huge" and damol meaning "mountain." The mountain is located in the Kodagu district of Karnataka state in southern India. It is one of the popular tourist destinations in the region.
Interesting facts about Tadiandamol Trek
| | |
| --- | --- |
| Activity Location : | Tadiandamol, Coorg |
| Start Point : | Bangalore |
| Difficulty level : | Moderate |
| Trek Length : | 15 Kms in total (Two way) |
| Summit Height : | 1748 m |
| Distance from Bangalore : | 260 Kms |
| Weather : | 24 to 28 Degrees (March to June) |
| Attraction : | Beautiful Mountains and View Points. |
| Food : | Veg & Non-Veg Food |
| Accommodation Type : | Dorms separate for Male & Female |
| Activity Duration : | 2 Day & 1 Night |
Why Tadiandamol Trek?
Tadiandamol Trek is one of the most popular treks in Karnataka. The trek starts from Bangalore and takes you to the Tadiandamol Falls, a very beautiful spot. The journey is long but it is definitely worth it. The falls are surrounded by dense forest and there are many medicinal plants and herbs found here.
How To Reach?
If you are planning to visit the Tadiandamol trek, you need to know the different ways one can reach the trek base camp. The nearest airport is Mysuru Airport which is located at a distance of 166 km from the trek base camp. You can hire either a taxi or a shared vehicle from the airport to reach the campsite. Alternatively, you can also take a bus from NIFT College Bus Stand located at a distance of 81m from the Tadiandamol trek base camp. The bus stand is also connected to Karmelaram Railway Station which is located at a distance of 7.9 km from the Tadiandamol trek base camp.
Activity
Looking for an adventure that will offer you the brilliant experience of trekking and camping in the mountains? Look no further than Tadiandamol Trek! This activity also includes a visit to the beautiful Somawathi Waterfalls. So if you're looking for an exciting and unique way to spend your weekend, this is the activity for you!
Know Before You Go for Tadiandamol Trek
Before you go on your Tadiandamol trek, make sure to know the following:
The conditions that prevail in different parts of the country during the trek can vary, so it is important to take adequate time to get acclimatized to high altitudes.
It is advisable to consult a physician before undertaking the trek.
Carry basic medications and a first-aid kit with you on the trek.
Note that rates may change depending on services and hotels available at the time of your trip.
Children below 12 years of age are not allowed on this activity, and individuals above 12 years of age will be considered adults and charged at adult rates.
Check the weather forecast before you go. If it looks like there will be rain or snow during your trek, be sure to bring an extra layer
Take a GPS device with you so that you can find your way back if necessary
Be aware of your tour guides and instructors, and avoid using plastic bags and littering while on your trip.
Things to carry
When traveling, it is important to be prepared for any eventuality. Here are some things you should carry with you in order to make your trip safer and more enjoyable:
A fresh pair of clothes – You may need them sooner than you think if you get lost or stranded.
Towel – It can be very wet and cold outside, especially in mountainous areas.
Flashlight and extra batteries – A flashlight can be a lifesaver incase of an emergency.
First-aid kit – Include basic items such as bandages, painkillers, and antiseptics.
Sunscreen and sunglasses – Protect your skin from the sun's harmful UV rays and glare.
Snacks and water – Carry enough food and drink to last the entire trip, even if you don't have to stop for lunch or dinner every day.
Cash – If there's an issue with your electronic equipment, you may need to able to purchase supplies or hire a local guide without access to the internet.
Personal medication (if any) – Make sure you have any prescriptions or over the counter medications with you in case of illness
Pack a camera if you want to capture what you're seeing on your hike or camping trip. Photography can be a fun way to document your adventure!
Guide to a successful trek at Tadiandamol Trek: Preparation and hiking tips
The journey to Tadiandamol Trek is a high, wild and wonderful way to reach simplicity. Tadiandamol Trek is the highest peak in Coorg and is situated in the south-eastern part of Coorg. It stands at a height of 5700ft, located at a distance of 8 km from the town of Kakkabe and approximately 35 km from Madikeri.
Preparing for the trip is essential if you want to have a successful time on the trail. Make sure to pack plenty of water, snacks and emergency gear, and be sure to take adequate clothing for extreme weather conditions.
Hiking tips can help make your journey more comfortable and enjoyable. Remember to take it easy at the beginning of the trek so that you don't injure yourself or fatigue yourself prematurely. Allow your body time to adjust to the new environment and terrain before pushing yourself too hard.
If you are looking for an awe-inspiring outdoor experience that will leave you feeling refreshed and revitalized, then consider signing up for a trip on Tadiandamol Trek. You won't regret it!
Program
( 02 days / 02 nights )
Day1

On day 1

You will pickup from your hotel in Indiranagar at 09:00 PM. You will then proceed to New Shanthi Sagar hotel, which is about a 15-minute drive from Domlur. From here, you will pick up your group and head towards Sapphire Toys. The trek to Tadiandamol Peak should take around 3 hours, and you will reach the peak around 12 PM. After lunch, you will descend back to the base camp and rest for the afternoon.

Day2

On day 2

You will start the trek early at 01:30 AM and make your way to Srirangapatna Bus Stand. From here, it is a 10-hour journey to the starting point of the trek, which is at Tadiandamol Peak. After arriving, you will have breakfast before beginning your hike up to the peak. Once you reach the peak, you will have lunch before descending back down to base camp and ending your trek that day.

Day3

On day 3

You will wake up at 07:00 AM and begin your journey back to Bangalore. Along the way, you can visit Golden Temple or Dubare Elephant camp.
FREQUENTLY ASKED QUESTIONS
TERMS AND CONDITIONS
CANCELLATION AND REFUND:
Cancellations prior to 10 days from the start of the trek are entitled to a full refund(excluding the transaction charges)Cancellation between the 9th day and the 3rd day to the start of the trek will have an 80% refund. Cancellation less than 3 days to the start of the trek will have NO refund. For any assistance mail us at: info@indian-tours.in

DISCLAIMER:

This activity is hugely dependent upon weather. The trip may get canceled without any prior notice due to weather or any unforeseen adverse circumstances
GALLERY / PHOTOS