Triund Trek Temperature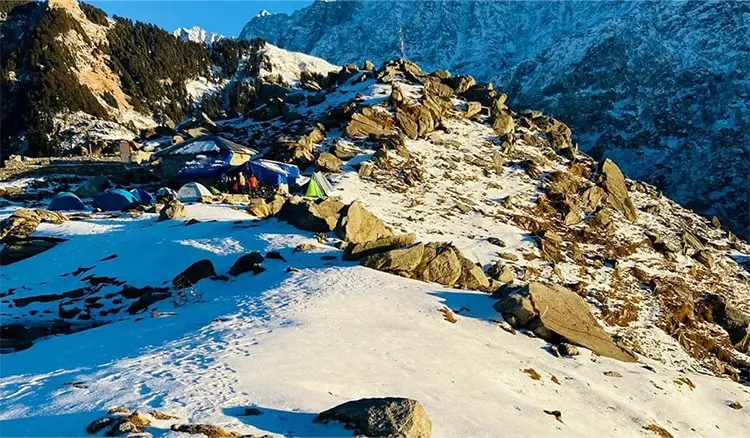 WHAT IS THE TEMPERATURE IN TRIUND TODAY?
Triund is among the most easy hikes in Himachal Pradesh. It's just 9 kilometers from the city's center in McLeodganj and you'll climb to the top in 3-4 hours. Instead of just telling you about Triund temperatures today we will provide you with an overview of Triund weather conditions all year long. It will assist you in planning better. Triund Temperature
January
The January weather is cold but not unbearable. The clear views of the Dhauladhar help to make up for the effort. Temperature range: 10 degrees celsius up to 1 degree celsius. The Triund temperature
February
While February is a cold month to make plans for a trip however, temperatures begin to rise which makes the overall climate comfortable. Temperature range from 12 degrees celsius up to 5 degrees celsius. Triund Temperature
March
In March, the snow begins melting, giving you breathtaking panoramas from Triund and the Dhauladhar range. It's among the best months to go to Triund. Temperature ranges from 18 degrees celsius up to 8 degrees celsius. Triund Temperature
April
In the absence of rain and with a beautiful weather, come to Triund during the month of April and be awed by its beauty. Temperature range: 20 degree celsius up to 12 degrees celsius. Triund Temperature of Triund
May
Although the weather is pleasant during this month, it may be affected by sudden showers later in the year. Temperature range from 26 degrees celsius to 13 degrees celsius Triund Temperature
June
In June, the monsoon hammers down on the hill station and makes roadways slippery as well as slippery. In this month the weather is unpredictable. Temperatures vary from 24 degrees celsius up to 14 degrees celsius.
July
The monsoon in July is at its peak. This could cause some issues when trekking. However, at the at the same time, you will be able to enjoy breathtaking views of the beautiful valleys. Temperature range from 19 degrees celsius up to 14 degree celsius. Triund Temperature
August
August can be quite crowded when monsoon has subsided in favor of mild temperatures. Temperatures range from 22 degrees celsius up to 14 degrees celsius. Triund Temperature
September
September is thought to be one of the most ideal months to plan for a triund hike. The weather is nice and you'll be able to enjoy stunning views over the Dhauladhar range. Temperature range: 23 degrees celsius up to 15 degrees celsius. Triund Temperature
October
The majority of trekkers believe that the month of October is the ideal month to go to The Triund. Triund's Temperature is nice and you don't have to worry about rain. Temperature range from 22 degree celsius to 11 degrees celsius Triund Temperature
November
November is also a wonderful month to plan a trip. But, the second part of November can be very cold. Temperature range ranging from 16 degrees celsius up to 5 degrees celsius. Triund Temperature
December
In December the conditions in Triund permits a thrilling hike however, it is extreme cold temperatures. Temperatures range from 12 degrees celsius to 5 degrees celsius
If you'd like to experience the Triund hike and make sure you don't have any issues You should check the weather conditions prior to departure. Are you still unsure of the Triund temperature right now? For more details on Triund temperature including safety measures and more,
Program
( 2 days / 1 nights )
Day1

Mcleodganj to Triund Hill (4-5 hours of trekking)

At 9 AM, you can start your trek from Bhagsu Nag Triund (2875 m).
Start your trek from Mcleodganj. You can reach Bhagusu Na and then hike from Bhagsu Nah. It is a magical experience to walk through dense forests of Oak, Rhododendron and deodar. This alpine meadow overlooks the snow-capped peaks at Dhauladhar. The Kangra Valley can be seen from the opposite side. We will then rest for the night after dinner and star gazing at our beautiful mountain lodge.

Day2

Triund Hill to Snowline and back to Mcleodganj (4-5 hours of trekking)

Get up early and see the sunrise over the majestic mountains and Kangra Valley. The finest thing is to be with your own. If you want to visit Snow Line (5Kms), then leave early in the morning from Triund. Else To reach Bhagsu Nag village, it will take approximately 4 to 5 hours. You can also stop at Lahesh cave on the way. Bhagsu Waterfall will be visible. This is the end of your trek.
FREQUENTLY ASKED QUESTIONS
Each trekker is responsible for his/her own safety. Trek organizers, guides, porters will not be responsible for any damage, theft, or loss of goods.
INCLUSIONS/EXCLUSIONS
| | |
| --- | --- |
| INCLUSION | EXCLUSIONS |
| - Basic vegetarian meals(Dinner on day-1 & Breakfast and on day-2) | - Transport from home town to McLeodganj |
| - Accommodation at trekking tents on a twin-sharing basis at the hilltop | - Anything not mentioned in Inclusions |
| - Sleeping bag | - Items like soft drinks and personal items |
TERMS AND CONDITIONS
CANCELLATION AND REFUND:
Cancellations prior to 10 days from the start of the trek are entitled to a full refund(excluding the transaction charges)Cancellation between the 9th day and the 3rd day to the start of the trek will have an 80% refund. Cancellation less than 3 days to the start of the trek will have NO refund. For any assistance mail us at: info@indian-tours.in

DISCLAIMER:

This activity is hugely dependent upon weather. The trip may get canceled without any prior notice due to weather or any unforeseen adverse circumstances
GALLERY / PHOTOS