Kareri Lake Trek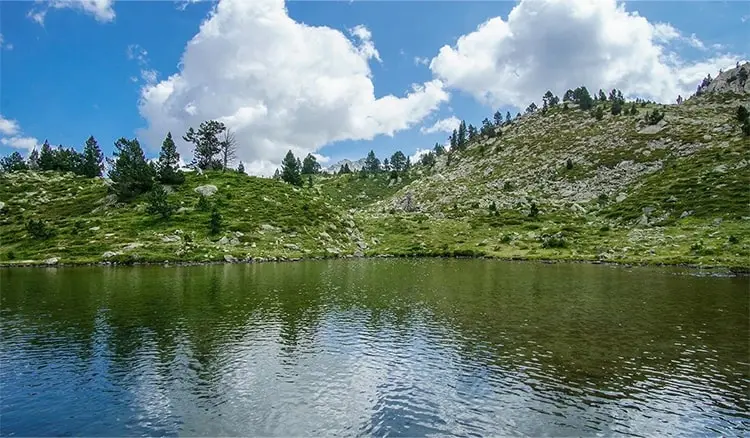 Kareri Lake Trek | Trekking in Dharamshala Himachal Pradesh
If you want to visit some of the most spectacular places in Himachal Pradesh, make sure you add Kareri Lake trekking expedition itinerary to your list. In this article, we offer everything you need to know about Kareri Lake Trek, including a detailed itinerary and a suggested time frame for trekking.
Kareri Lake Trek is a trekking in Dharamshala Himachal Pradesh that starts from Mcleodganj. The total trekking duration for this route is about 2 Days. The route starts from the tranquil and beautiful surroundings of McLeod Ganj and ends at Kareri Lake. Kareri Lake is one of the most beautiful lakes in the state and offers amazing views of snow-capped mountains along with green meadows, forests and villages.
Kareri Lake Trekking Tour Highlights
The Kareri Lake Trekking is a perfect way to explore the natural beauty of Dharamshala and Himachal Pradesh. The trek is quite easy, with a gradual ascent, allowing you to take plenty of time to enjoy the views along the way. The trail follows the course of the Kareri River, meandering through forest and past picturesque lakes. You'll reach Kareri Lake after about four hours of walking, making it an ideal destination for a day trip or short weekend getaway.
If you're looking for a scenic hike with plenty of wildlife sightings, the Kareri Lake Trek is definitely worth considering. You'll see otters swimming in the lake, deer grazing in the forest, and soaring eagles overhead. The views are truly spectacular and will leave you feeling grateful for your surroundings. If you're looking for a challenging trek that will leave you feeling elated, the Kareri Lake Trek is not for you. However, if you're looking for an easy-going day walk that provides stunning views and some relaxation time, the Kareri Lake Trek is perfect for you!
What makes it a popular destination?
If you're looking for a trekking destination with stunning views, then the Kareri Lake Trek is definitely worth considering. Located in Dharamshala, Himachal Pradesh, this hike takes you through some of the most gorgeous mountain ranges in the area. Not only are the vistas breathtaking, but the hiking trails are also well-maintained and easy to navigate. Plus, the scenery is always changing, so there's never a dull moment on this trek.
What to expect on your trek?
Traveling to the highlands of Himachal Pradesh is a unique experience that allows you to explore some of the most breathtaking landscapes in India. While there are many wonderful places to visit in the state, one of the most popular trekking destinations is Kareri Lake. This trip presents travelers with a variety of challenges, from navigating through the dense forests to crossing rivers on sturdy bridges. The rewards of completing this trek are spectacular views of Kareri Lake and its surrounding mountains, as well as an opportunity to learn about the region's culture and history.
How long did the hike take?
It took us 5 hours to trek around Kareri Lake. The hike around Kareri Lake is a great way to get some exercise and take in the natural beauty of Dharamshala. The trail winds its way up and through the woodland and meadows, with occasional glimpses of the lake itself. Make sure to bring your swimsuit if you plan on swimming in the lake!
Best time to travel to this region
Kareri Lake Trek is one of the most popular trekking destinations in Dharamshala, Himachal Pradesh. The area offers a variety of landscapes and natural habitats, making it a favorite destination for hikers, photographers, and nature lovers. Whether you're looking for a short day hike or an all-day adventure, Kareri Lake Trek has something for everyone.
The best time to travel to Kareri Lake Trek is from late April to early November, when the weather is mild and the vegetation is at its greenest. But any time of year is great for a walk through this beautiful landscape!
The hike begins from Kareri Village which is located at a distance of 27 km from Dharamshala. It takes around 6 hours to reach Kareri Lake from Kareri and another 4 hours to reach the final destination-the Kareri Lake Chalet which is situated on an altitude of 3400 mts above sea level.
If you are interested in doing the Kareri Lake Trek, be sure to check out our website for more information and to book your reservation!
The cost of going on a hike, and what to bring
If you're thinking of taking a hike in Dharamshala, the best time to do it is during the monsoon season, when the trails are wet and muddy. The cost of hiking in Dharamshala depends on what you plan to do, but most hikes range from Rs 1500-4000 per day. A good idea is to bring a tent, sleeping bag, and enough food for at least two days.
A good rule of thumb is to pack enough food and water so that you don't have to stop for more than an hour each day. You'll also want some sunscreen and insect repellent, as well as a first-aid kit. And if you're planning on doing any climbing or walking off trails, be sure to bring proper footwear and equipment.
Important Tips for hiking including precautions, equipment, and safety considerations
The Kareri Lake Trek is a popular trek in Dharamshala, Himachal Pradesh. It is a moderate hike that takes around 10 days to complete. There are a few important tips you should keep in mind when hiking the Kareri Lake Trek:
1. Make sure to take precautions when hiking the Kareri Lake Trek. This includes bringing along adequate equipment and ensuring that you are properly prepared for the weather conditions. Make sure to pack rain gear, sun protection, and snacks if you plan on spending any time outdoors in the cooler temperatures.
2. Always be aware of your surroundings while hiking the Kareri Lake Trek. This includes being aware of your surroundings when crossing rivers and streams and keeping an eye out for wild animals. If you encounter any dangerous wildlife, make sure to stay calm and avoid confrontation.
3. Be careful when hiking the Kareri Lake Trek during peak season. The hike can be very crowded during peak season and there is always the risk of slippery surfaces making footing difficult. If you do decide to hike during peak season, make sure to follow advice from local guides or hire a professional guide service if possible.
Conclusion
I hope you enjoyed our article on the Kareri Lake Trek in Himachal Pradesh. This is an incredibly beautiful area of India and if you're looking for some adventure, this is the perfect place to go. The trek takes you through dense forests and over snow-capped mountains, culminating in a stunning view of Kareri Lake. If you're interested in exploring more of India's wonders, be sure to check out our other articles on destinations like Rajasthan and Kerala!
Program
( 02 days / 01 nights )
Day 01

Dharamkot to Kareri Village

Day 02

Trek to Kareri Lake
FREQUENTLY ASKED QUESTIONS
INCLUSIONS/EXCLUSIONS
Breakfast
Transportation
Stay
TERMS AND CONDITIONS
CANCELLATION AND REFUND:
Cancellations prior to 10 days from the start of the trek are entitled to a full refund(excluding the transaction charges)Cancellation between the 9th day and the 3rd day to the start of the trek will have an 80% refund. Cancellation less than 3 days to the start of the trek will have NO refund. For any assistance mail us at: info@indian-tours.in

DISCLAIMER:

This activity is hugely dependent upon weather. The trip may get canceled without any prior notice due to weather or any unforeseen adverse circumstances