Lahesh Cave Trek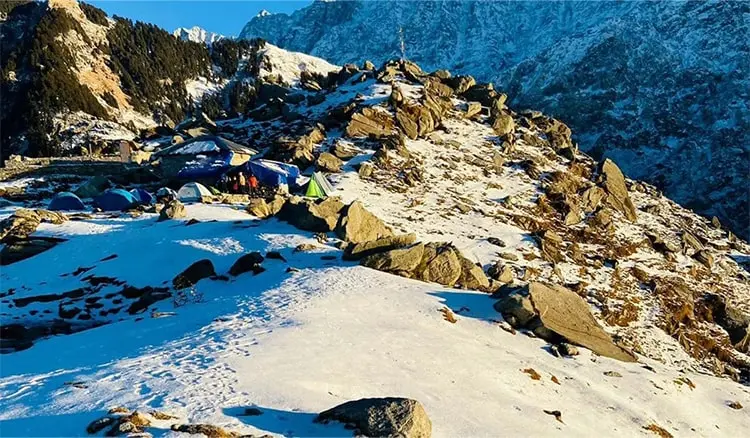 Detailed information about the Lahesh cave trek, which is set near the Triund trekking village of Dharamshala in Himachal Pradesh.
About Lahesh Cave Trek
Lahesh cave trek is an ideal trekking route for adventurers who wish to explore beyond an easy one day trek to Triund. The trail to Lahesh caves is one of the most beautiful in the Himalayas. It offers an enthralling experience with breathtaking panoramic views of the Dhauladhars. The Lahesh Cave Trek is a beautiful 12 kilometer trek that leads you to one of the most fascinating caves in India. The cave is located at a height of 3500 meters above the ocean level, making it a very difficult trek. However, the views are worth it and it is definitely a must-do if you're visiting McLeod Ganj or Dharamshala. The trailhead is located 10 kilometers from Dharamkot, and from there it is easy to follow. The hike will take you through Galu Devi Temple, Triund, and Illaqa before finally arriving at Lahesh Cave.
About Lahesh Cave Trek
| | |
| --- | --- |
| Location : | Mcleodganj |
| Start & End Point : | Mcleodganj bus stand. |
| Difficulty level : | Moderate |
| Trail : | Gradual climb till Triund, a little challenging as you move to Lahesh cave. |
Best Time To Visit
Summer (May-June) and winter (December-January) are the two best times to visit the trek. This is because the temperatures are warmer during these months, which makes it easier to enjoy the trek. The snow also covers the ground making it comfortable to walk on.
Why to visit this place
If you're looking for a unique and different destination to visit, you should definitely consider visiting the Lahesh Caves. This place is known for its stunningly beautiful caves that are home to a variety of wildlife, including giant salamanders, bats, and spiders. Additionally, the hike through the mixed forests is an unforgettable experience that will provide participants with plenty of opportunities to explore nature. The tour also provides a sense of peaceful calm that aids in relaxation.
Nearby Treks/Passes
Triund Hill is a great place to start a day of hiking, as it offers an easy access to Indrahar Pass and Kareri Lake. If you're looking for a bit more of an adventure, head over to Kareri Lake. It's a beautiful area with stunning views of the Himalayas. Alternatively, if you're looking for a shorter hike, try taking the path to Indrahar Pass.
What to expect on the way up
If you are looking to do a trek in the mountains, then the Lahesh cave trek is definitely worth considering. Located in Dharamshala, this trek is one of the most popular in the region, and with good reason. The scenery is stunning, and the hike itself is relatively easy.
The route begins by ascending through pine forest before emerging into an open landscape dotted with small lakes and glaciers. After about two hours, you reach a suspension bridge over a deep ravine. From here on out, the trail becomes more rugged as it traverses through sheer rock faces, past waterfalls and snow-capped peaks.
When you arrive at the cave, be prepared for an exceptional view. You will be able to see all of McLeod Ganj including its colourful roofs from up close. If you want to extend your stay in the cave, there are several other shorter trails that lead to some of its interesting features such as ice caves and waterfalls. So if you are looking for an unforgettable experience that will leave you feeling physically and emotionally challenged.
Trek Preparation
The Lahesh cave trek is a popular trek in Dharamshala which can be completed in a day. The trailhead is located just outside the town and the journey through the forest takes you to an ancient Buddhist monastery perched atop a giant cliff.
Trekkers should be well-prepared for the hike, carrying enough water, snacks, and sunscreen. Trekking poles are also recommended for use along the way as the route is often steep and rocky. The monastery at the end of the cave provides a great view of Dharamshala and surrounding peaks.
Tips and tricks for a successful Lahesh cave trek
If you're planning a Lahesh cave trek in Dharamshala, be sure to read this advice first! Here are some tips and tricks to help make your experience as smooth as possible:
Dress for the weather: Keep in mind that the temperatures inside the cave can be quite cold, especially at night. Make sure you have appropriate clothing for the conditions, including warm layers for when it gets cold outside and sturdy shoes to avoid getting wet.
Bring plenty of water: Not only will you need it to drink along the way, but you'll also need it to keep yourself hydrated if you're going on a strenuous hike. Bring enough water for both drinking and cooking purposes, and make sure to pack snacks and drinks for when you reach the end of your journey.
Take breaks: Don't forget to take frequent breaks along the way! Even if it means sitting down for a while to rest your feet or take a break from walking, taking occasional breaks will help keep you energized and alert during your trek.
Bring a map: Just in case you get lost or need to find
Things To Carry
One of the most important things to remember when traveling is to always have an appropriate amount of supplies with you. Depending on where you are going, your supplies may vary, but here are some general essentials: sunscreen, sunglasses, insect repellent, water filter, first-aid kit, and a map. You'll also want to bring along any valuable items (such as a passport or cash) and your phone charger. And finally, don't forget to pack your bag full of clothes in case you get stuck in the middle of nowhere (or hot weather).
Program
( 03 days / 02 nights )
Lahesh Cave Trek
FREQUENTLY ASKED QUESTIONS
TERMS AND CONDITIONS
CANCELLATION AND REFUND:
Cancellations prior to 10 days from the start of the trek are entitled to a full refund(excluding the transaction charges)Cancellation between the 9th day and the 3rd day to the start of the trek will have an 80% refund. Cancellation less than 3 days to the start of the trek will have NO refund. For any assistance mail us at: info@indian-tours.in

DISCLAIMER:

This activity is hugely dependent upon weather. The trip may get canceled without any prior notice due to weather or any unforeseen adverse circumstances
GALLERY / PHOTOS