Savandurga Trek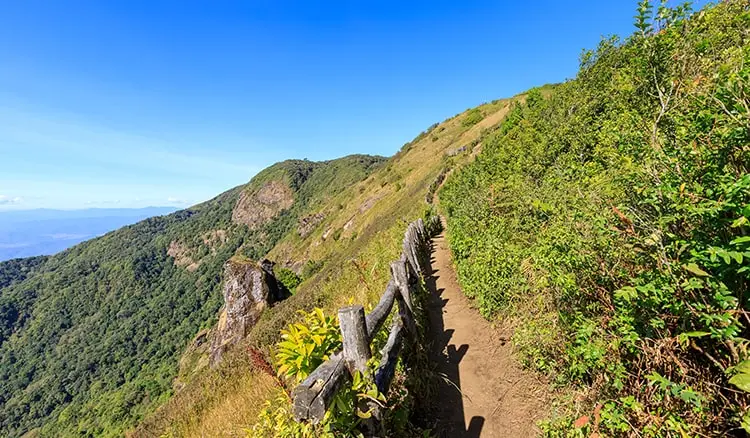 About the Savandurga Trek
If you're looking for an adventurous trek that will take you to some amazing sights, the Savandurga trek is perfect for you! Located 60 km away from Bengaluru in the Savandurga state forest, this trail is famous for its challenging climb and amazing views of Magadi, Manchabele and Thippagondanahalli reservoirs and Arkavathi river. The Savandurga trek follows a trail to the top of Asia's largest monolith hill. "Karigudda" (Black hill) and "Biligudda" (White hill) make the Savandurga hill cluster. Savandi Veerabhadraswamy temple and Sree Lakshmi Narasimhaswamy temple are located at the base of the hill. These temples date back to 1340 AD and are believed to have been built by the Hoysala rulers. The Savandurga hill is off Magadi road and is easily accessible via buses, cars or two wheelers. This makes Savandurga an ideal all weather trek near Bangalore.
Origin of name
The name Savandurga is derived from the Sanskrit word Saavana, which means three times rituals. The hill is also known locally as Karigudda and Biligudda. The earliest record of the name of the hill is from 1340 AD by Hoysala Ballala III from Madabalu where it is called Savandi. Another view is that the name is originated from Samantadurga attributed to a Samantharaya, a governor under Ahchutaraya at Magadi, although there is no inscription confirming this. This was the secondary capital of the Magadi rulers such as Kempegowda. From 1638 to 1728, Mysore took over this place and Dalavayi Devaraja occupied this place with the palace at Nelapattana. In 1791 Lord Cornwallis captured it from Tipu Sultan's forces during the Third Anglo-Mysore War. Robert Home in his Select views in Mysore (1794) shows distant views of the hill from Bangalore. He called it Savinadurga or the fort of death. There were no steps to reach the hill top and it was covered by bamboos and other
Trek Details
| | |
| --- | --- |
| Base Village : | Magadi, Karnataka |
| Trek gradient: | Moderate. Savandurga is a continuously uphill trail with some rising and falling segments, along the rocky terrain with some moderate steep rock inclinations. |
| Approximate time : | 4 to 6 hours |
| Trek Level : | Easy ( Difficulty level is subjective ) |
| Trail Type : | Rocky terrain |
| Trek Distance : | 6 km |
Climbing
Savandurga is a very popular climbing destination in the world. There are a dozen routes, bolted or otherwise on the south face of the monolith. Most of these routes can be completed in half a day to a day, depending on various factors. Some of the routes have long runouts, and most of them face South or are exposed to South-east, implying that when the sun comes up, the rock becomes quite hot.
Best months to visit:
Best time to visit is during the winter months. This allows the trail to be open without any trees obstructing your view, making it easier to navigate. The trail also stays relatively dry during this time of year, making it easier to hike. The downside to visiting during the winter is that it can get really cold and really humid, so make sure you pack appropriately. The best months to visit are from September to February, but there are also occasional hikes that can be done throughout the year. Just be aware of the conditions and plan accordingly.
How to reach Savandurga Hill
Nearest Airport: Kempegowda International Airport which is just 90 km from Savandurga Hill
By Rail: Bidadi Railway station that is 17 kms from Savandurga hills or Magadi which is 12 kms from Savandurga
By Road: 60 km from Bangalore. Regular buses ply to Magadi Road.
Things to do in Savandurga:
Take a tour of the most iconic and some less known architectures of the 'Garden City of India' on a 6-hour tour with a professional guide. Enjoy a lovely South Indian lunch and a hands-on experience in pottery making.
Things to Carry
If you're planning a trekking trip, it's important to remember to pack enough supplies to last the entire trip. Here are some essentials you'll need:
Water bottles - Bring two (one litre each) so you can drink plenty of water throughout the trek.
Lunch Box & Spoon - Make sure to pack a lunch box and spoon so you can have something to eat on your hike.
Raincoat/Bag Covers - Keep yourself and your gear dry by packing raincoat/bag covers.
Flip-flops - You'll want to take a pair of flip-flops with you in case you get wet during your hike.
Torch/Headlamp - Be prepared for any eventuality by packing a torch or headlamp.
Portable Chargers - If you're bringing electronics with you on your hike, make sure to bring portable chargers so you can keep your devices charged.
Extra Clothes - In case you get wet while hiking, it's important to pack an extra set of clothes.
Polybags - To pack your wet clothes, use polybags.
Tips for Picking a Season
Savandurga Trek is one of the most popular treks in Bangalore. The best time to go is during the months of November through January when the weather is temperate and the vegetation is lush. However, there are several things you can do to make sure you have a great trip no matter what time of year you go.
Here are some tips for picking a season for Savandurga Trek:
Check the weather forecast before booking your trip. This will help you decide whether or not to go when it's too hot or cold outside. If it looks like there will be bad weather, wait until later in the year when things might have calmed down.

Check the vegetation. In fall, winter and early spring, the vegetation will be at its peak so you'll see more flowers and trees. In summer, it will be mostly dry and hot so you won't see as much variety.

Consider your fitness level. Savandurga Trek is a long walk, so make sure you are physically prepared before booking your trip. If you're not fit, consider hiring a guide who can take you up and down mountains on horse
Cost of the Tour
The average cost of the tour is about Rs. 1500/- per person, but this price can change depending on the time of year and other factors. You can also book the tour through various travel agencies in Bangalore.
Program
( 1 days / 0 nights )
Day1

Depart from Bangalore

Day2

Savandurga Night Trek
FREQUENTLY ASKED QUESTIONS
TERMS AND CONDITIONS
CANCELLATION AND REFUND:
Cancellations prior to 10 days from the start of the trek are entitled to a full refund(excluding the transaction charges)Cancellation between the 9th day and the 3rd day to the start of the trek will have an 80% refund. Cancellation less than 3 days to the start of the trek will have NO refund. For any assistance mail us at: info@indian-tours.in

DISCLAIMER:

This activity is hugely dependent upon weather. The trip may get canceled without any prior notice due to weather or any unforeseen adverse circumstances
GALLERY / PHOTOS