Churdhar Peak Trek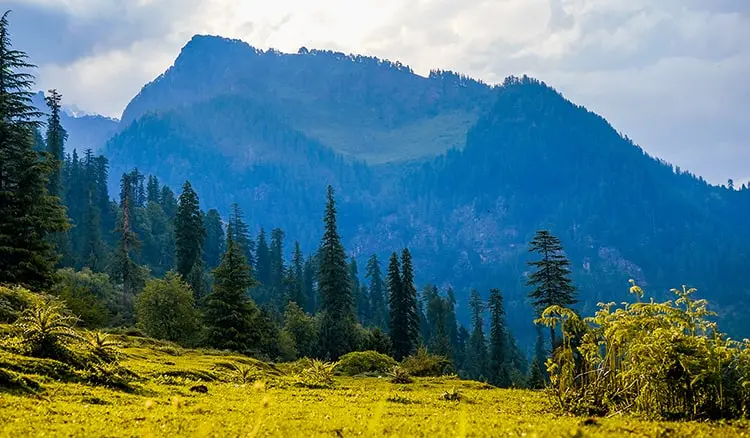 Churdhar Peak Trek
IndianTours is one of the leading online tour operators in India. We offer a wide range of guided tours and holidays, covering most popular tourist destinations in India. Churdhar Peak Trek is one of our popular treks. If you're looking for an adventure that will test your fitness and stamina, then consider booking a trip on the Churdhar Peak Trek!
What to expect on the trek
If you are looking for an exhilarating and scenic trekking experience, then the Churdhar Peak Trek is perfect for you! This 8-day trek takes you up to the snow-capped peak of Churdhar, situated in the Himachal Pradesh.
While this trek is not without its challenges, such as slippery slopes and steep ascents and descents, it is definitely worth it for the breathtaking views that you will be able to see on your way up and down. Make sure to take plenty of water with you on the trek, as there are no facilities available along the way.
Highlights of the trek
The Churdhar Trek is a wonderful outing for every traveler! This trek offers a unique and beautiful experience
At a modest elevation of just under 12,000 feet, Churdhar is the highest peak outside the Himalayan range. Very few know that it is from the top of this peak
George Everest made his astronomical reading of the Himalayan Mountains. Chur-Dhar is also known as Churi-Chandni Dhar (Bangles of snow ridge).
This peak is visible from Shimla, Kasauli, Solan & Kufri and retains a streak of snow on its upper ridge throughout the year.
The Churdhar Trek is also a great way to get acclimated to colder climates. The views from the summit are simply stunning and will leave you with memories that will last a lifetime.
Things To Carry
If you are planning to trek in the Churdhar mountains, there are a few things you will want to carry with you. Here is a list of things to bring on your journey!
-A map of the area
-A compass
-Sunscreen and lip balm
-Bug spray
-A whistle
-A first aid kit
-Enough food and water for the duration of the trek
-An emergency whistle to signal for help if needed
Activity
Yoga Session
Trekking
Camping
Bonfire
How to go on Churdhar Trek?
Churdhar Trek is a great way to explore the beautiful Himachal Pradesh region. The trekking can be done in either a single or double week trip, and takes about 10 days to complete. Here are some tips on how to go on the Churdhar Trek:
- Choose a reputable tour company. There are many fly-by-night operators in this region, so it's important to do your research first. Make sure the company has a good reputation and has experience dealing with foreign tourists.
- Obtain a travel insurance policy. This is essential, as there are a lot of risks involved in travelling to India, including accidents and theft. Make sure you have comprehensive coverage including medical evacuation expenses.
- Pack lightly. This is one of the biggest challenges when travelling to India - everything is so big and bulky! Bring only the essentials - enough clothes for cold weather, snacks and water, your passport and visa, and your cameras!
- Get plenty of rest. The walk through the mountains can be quite tiring, so make sure you take plenty of breaks along the way.
Himachal Pradesh: Best Time to Visit
Himachal Pradesh, located in the northern most part of India, is one of the most popular tourist destinations in the country. The state has a rich cultural heritage and is home to beautiful valleys and mountains. Here are some tips on how to make the best of your visit to Himachal Pradesh:
Go during winter season: Himachal Pradesh experiences a cold weather throughout the year but January-March is the best time to visit because the temperature is mild and there are less crowds.
Avoid monsoon season: The rainy season lasts from June to September and this is when roads become very slippery and can be dangerous. It's also not advisable to travel in mountainous areas during this time as landslides are common.
Make use of public transport: The best way to explore Himachal Pradesh is by using public transport which will help you save on petrol costs. There are plenty of buses that ply throughout the state and tickets can be bought at most convenience stores.
Visit small villages: Himachal Pradesh is home to a variety of small villages which offer an interesting glimpse into traditional Indian life.
How to Reach:
The location is based at a 36 km Nohradhar / Solan and can be easily reached with public transportation as well as dedicated pick-up services. The pick-up service will be done from Shimla Hotel.
Accommodation and Food during the Churdhar Trek
There are many ways to stay in Churdhar while on your trek. The cheapest way is to stay with locals in their homes, which can be a great experience but can be difficult to arrange in advance. Another option is to stay in one of the many guesthouses and campsites scattered throughout the area. Prices for these vary widely, but typically expect to pay around Rs 1000 per night for a tent site and Rs 2000 for a room in a guesthouse.
There are also a few basic yet comfortable hotels located in the town of Churdhar itself, although they're not especially cheap. In order to save money, it's also possible to sleep out on the ground if you're prepared for some roughing it.
Conclusion
If you are looking for a challenging trek that will leave you feeling invigorated and fulfilled, then the Churdhar Trek is definitely worth considering. The journey takes you up to the top of one of the most beautiful peaks in North India, and as such provides excellent opportunities to take in breathtaking views while also enjoying a strenuous hike. With IndianTours by your side, there is no doubt that you will have an unforgettable experience. Thanks for reading!
Program
( 03 days / 02 nights )
Day2

Kalabang base camp to churdhar temple

Day3

6kms trek from Kalabang tosaran and drive from saran to Shimla
FREQUENTLY ASKED QUESTIONS
INCLUSIONS/EXCLUSIONS
Breakfast
Transportation
Stay
TERMS AND CONDITIONS
CANCELLATION AND REFUND:
Cancellations prior to 10 days from the start of the trek are entitled to a full refund(excluding the transaction charges)Cancellation between the 9th day and the 3rd day to the start of the trek will have an 80% refund. Cancellation less than 3 days to the start of the trek will have NO refund. For any assistance mail us at: info@indian-tours.in

DISCLAIMER:

This activity is hugely dependent upon weather. The trip may get canceled without any prior notice due to weather or any unforeseen adverse circumstances
GALLERY / PHOTOS