Sar Pass Trek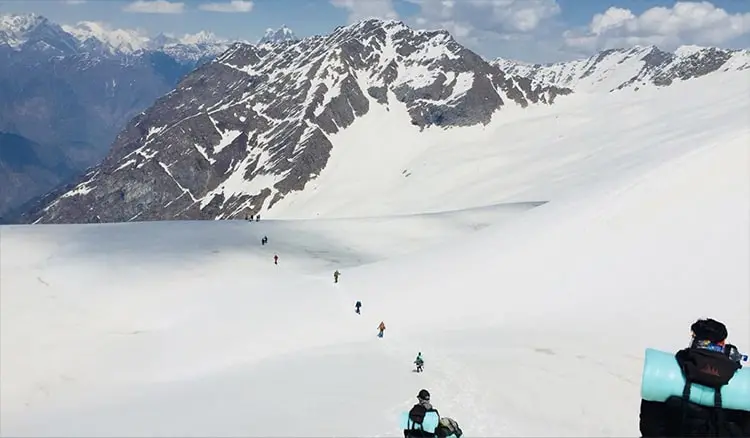 Himachal Pradesh is consecrated by many beautiful valleys that offer amazing natural wonders. Of all the valleys Parvati Valley is among the most loved by hikers and backpackers from all over the world. There are a variety of trekking routes within the Parvati Valley, however, the most well-known and exciting alternative is the "Sar Pass Trek". The most captivating part of this trek is that it takes you through an array of stunning scenery that will leave you feeling awestruck. With the lush green meadows in the alpine, Deodar tree forests, Rhododendrons, and pinewood forests, this trek is certain to delight people who are enthralled by wanderlust. Overall, the Sar Pass Trekking Trail is awash in lush green forests, crystal clear waterfalls, thrilling trails, and an array of Himalayan plants and flowers.
THINGS TO CARRY
● Woolen clothes/Jackets/Wind-Cheater
● Socks(2-3 pairs)
● Thermal Wear(1-2 pairs)
● Trekking Shoes
● Normal gloves/Snow gloves
● Sunglasses/Goggles
● Lunch box, Water bottle, Spoon
● Sunscreen lotion
● Personal medication
● Raincoat
● Torch and batteries
● Normal bags (to carry small stuffs)
● ORS /Dry fruits
Program
( 6 days / 5 nights )
Day1

Kasol

Arrive at the Kasol Base Camp in the afternoon. This day is for acclimatization and orientation. You can go out for a serene walk and explore this quaint Himalayan town. During the orientation session you will be given instructions about rucksack packing, marching/walking technique and general information about the trek route by our expert guides. Followed by an overnight stay in Kasol.

Day2

DAY 2 Kasol to Grahan Village (5-6 Hours)

Wake up to the beautiful Himalayan sunrise at the Thrillomania Base Camp. After a nutritious breakfast at the camp we start trekking from Kasol to Grahan Village, which is a 7 to 8 Km walk into the deep jungle for 4 to 5 hours.The trail is easy and frequently used by locals. Trekking through the lovely pine forests, one can effortlessly cover much distance in a couple of hours. After a steep climb of about an hour will take you to your destination for the day. We reach Grahan Village by evening and End our day here with a beautiful night sky, lavish dinner and cozy Homestay.
Increase in altitude – 1700m to 2350m

Day3

Grahan Village to Min Thatch Camp (4-5 Hours)

Wake up to a hearty meal provided by our team and then we start our trek towards the north of the camping ground at Grahan Village. The slope becomes steeper and the path is confusing at some places, remember to stay with your group. Once you Cross the lush green forest After walking a little more, you will see the Ming Thatch, Nagaru, and Sar top on the mountains. We call it a day here to have our dinner followed by an overnight stay at the camps.

Day4

Min Thatch camp to Nagaru camp (4-6 Hours)

The trek gets a bit tougher from day 4. The track is slippery, be very careful, listen carefully for every instruction by the camp leader and trek Guide. After breakfast we trek from Min Thach to Nagaru and pass through the woods. It is a difficult part of the trek, the slope falls steeply to the valley below and the snow may be slippery. After crossing a steep slope for a couple of hours we'll reach the famous Nagaru campsite. From here you can see a magnificent View of the Parvati valley, the town of Manikaran and surrounding villages are also visible. It's advisable to not roam around unnecessarily at Nagaru as it is the highest altitude camp in this trek and it gets really cold here at night. After our dinner we'll sleep early to avoid the cold and also because the next day involves an early start. Enjoy the mesmerizing view of the cold winter overnight at Nagaru.

Day5

Nagaru Camp to Biskeri Thatch camp via Sar Pass (6-8 Hours)

Rise and shine early in the morning to start your trek. On this day we will Climb up through the snow trails to a beautiful view of the dazzling peaks of Tosh Valley. We reach the top and take some time to enjoy the stunning view. Then comes one of the most fun parts of the trek, which is a 100ft long snow slide. It's completely harmless but still some precautions are taken.The slide takes one as far as a kilometer to a gentler slope of the valley from where we walk for an hour and cross some magical streams to reach the Biskeri Thatch campsite by evening. Biskeri is also famous for a variety of bird species, happy bird watching. We will camp overnight at the Biskeri Thatch campsite. All Meals Provided.

Day6

Biskeri Thatch Camp to Barshaini and a Drive back to Kasol base camp ( 4-5 hours)

From Biskeri, we'll hike down across a steep plot of land with fencing all around. The path to the village of Pulga goes to the left of the campsite. The twin villages of Pulga and Tulga that sees plenty of tourists throughout the year are separated by the beautiful parvati river. From here we take a Jeep ride to our base camp at Kasol. Your amazing trek to the Sar pass concludes here.
FREQUENTLY ASKED QUESTIONS
Each trekker is responsible for his/her own safety. Trek organizers, guides, porters will not be responsible for any damage, theft, or loss of goods.
INCLUSIONS/EXCLUSIONS
● 5 Nights stay will be provided in standard sharing tents with a common washroom.
● Veg food from Dinner on Day 01 to Lunch on Day 06.
● Toilet tents are pitched at every campsite.
● Bathing facilities will be available only at base camp.
● Sleeping bag and sleeping mats.
● Professional and Certified guides.
● Forest permission/camping charges.
EXCLUSIONS
● Travel insurance.
● No Airfare or transportation or extra over and above the expedition.
● Cost incurred due to any Emergency.
● Personal Porter Charges.
● Bottled water.
● Any personal expense.
● Cost escalation due to change in itinerary by Natural reason or unforeseen conditions like Landslides, Road Blockage, Bad Weather, Social or Political Unrest, Strikes, sudden shutdown of any govt office etc.
● Transportation from Barshaini to Kasol will be paid by every individual.
TERMS AND CONDITIONS
CANCELLATION AND REFUND:
Cancellations prior to 10 days from the start of the trek are entitled to a full refund(excluding the transaction charges)Cancellation between the 9th day and the 3rd day to the start of the trek will have an 80% refund. Cancellation less than 3 days to the start of the trek will have NO refund. For any assistance mail us at: info@indian-tours.in

DISCLAIMER:

This activity is hugely dependent upon weather. The trip may get canceled without any prior notice due to weather or any unforeseen adverse circumstances
GALLERY / PHOTOS