Hemkund Sahib Trek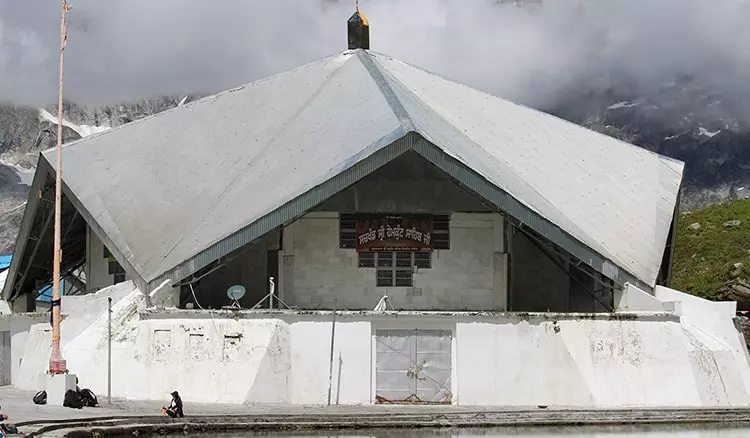 Hemkund Sahib Trek What To Expect: Best Time to Visit
Hemkund Sahib Trek is one of the most revered trekking trails in Garhwal Uttarakhand, Himalayas. Trekking this trail allows you to experience the peace and solitude of the forest amidst mystical landscapes that are a sight to behold. This article provides detailed information about the best time to do this trek, as well as details about the route itself.
The shrine is visited by people from all over India and abroad, and Indian Tours has decided to organise a trekking expedition to Hemkund Sahib in 2022.
Hemkund Sahib Trek Overview
The Hemkund Sahib trekking tour is one of the best time for a perfect holiday. The trekking offers breathtaking views of the snow-capped mountains and the rushing rivers below. The Hemkund Sahib monastery, located at the summit of Hemkund Sahib, is a must-see place on this trekking tour. It is said that Guru Gobind Singh Ji meditated here and attained salvation. The hike up to the monastery takes around 8-10 hours, and there are plenty of rest stops along the way where you can have snacks and drinks. The summit itself offers amazing views of the valleys and peaks around it. The return journey can be done in 2-3 days if you are fit enough. There are also shorter treks available for those who want to see just a part of the Hemkund Sahib area.
The entire trek is filled with religious significance and is a great way to explore the scenic beauty of Uttarakhand. If you are looking for a unique and exciting trek that will leave you feeling spiritually uplifted, then Hemkund Sahib Trek should definitely be on your list.
If you are looking for an unforgettable trekking experience then book your tickets for the Hemkund Sahib trekking tour today!
Quick Facts
| | |
| --- | --- |
| Hemkund Sahib Trek Duration : | 7D/6N |
| Elevation : | 4,633 m |
| District : | Chamoli district |
| PIN : | 249401 |
| Maximum altitude : | 15201 ft. |
| Hemkund Sahib Trek Difficulty Level : | Easy to Moderate |
| Hemkund Sahib Trek distance : | 42 Km |
| Temperature : | Day: 18°C to 12°C and Night: 5°C to -1°C |
| Best time to go for Hemkund Trek : | May to October |
| ATM | Haridwar |
| Start Point/End Point | Haridwar |
How to Book Hemkund Sahib Trek?
To book Hemkund Sahib Trek, follow these simple steps:
Go to the IndianTours website and click on the "Hemkund Sahib Trek" link.
On the Hemkund Sahib Trek page, you will be able to see all of the available dates and times. You can also choose to book the trek in either English or Hindi.
After you have chosen your dates and times, click on the "Book Now" button to complete your reservation.
What is Included in Hemkund Sahib Trek?
The Hemkund Sahib Trek includes all the essentials you will need to enjoy a wonderful trek through the beautiful Himalayas. Along the way, you will be traversing through some of Uttarakhand's most stunning landscapes, including the Hemkund Sahib temple. The temple is one of the holiest sites in Sikhism and is said to have miraculous powers. You will also be able to visit a number of other amazing sites, including the Kedarnath Temple and Rishikesh Lake.
This trek is a great opportunity to get away from it all and experience some of India's most breathtaking scenery. It is also an excellent way to learn more about Sikhs and their religion. If you are looking for an unforgettable hiking experience, then the Hemkund Sahib Trek is definitely worth considering.
Best Time to Spend the Hemkund Sahib Trek
Hemkund Sahib Trek is one of the most popular trekking trails in Uttarakhand. It is also one of the most challenging trekking trails in India. Hemkund Sahib Trek can be done either in summer or winter. The best time to do the Hemkund Sahib Trek is during the monsoons, between July and September. This is because the trail is flood-free and there are fewer crowds.
During the monsoons, the clouds usually break and give way to a beautiful panorama of mountains and valleys. The snow-capped peaks of Hemkund Sahib are especially beautiful during this time of year. If you want to enjoy a more subtle view of Hemkund Sahib, visit it during the winter months. However, be prepared for cold temperatures and high mountains.
Things to Pack for a Hemkund Sahib Trek
Sunscreen
Sunhat
Bug repellent
Tripod or monopod for photos and videos
First Aid kit
Shawl or Warm Blanket
Extra phone charger
Extra clothes
Snacks
Water bottle
Taxi Ride from Delhi to Uttarakhand
If you are planning to visit Hemkund Sahib Trek, make sure to book your taxi ride well in advance. The taxi ride from Delhi to Uttarakhand can be quite long and tiring. Here are some tips on how to make the taxi ride as smooth as possible:
1. Compare taxi rates before you travel. You can find taxi rates online or at the airport.
2. Book a taxi ahead of time. If you plan to leave early in the morning or late in the evening, it is best to book your taxi as soon as possible. This will ensure that you have a cab waiting for you when you arrive at the destination.
3. Choose a reputable taxi company. Make sure that the company that you choose is licensed and insured. You do not want to get into an accident while traveling to Hemkund Sahib Trek!
4. Tell the driver where you are going. Let the driver know exactly where Hemkund Sahib Trek is located so that he can take you there accurately.
5. Be patient! The trip can take anywhere from seven to ten hours, so try not to get too out of sorts during the ride.
How to reach haridwar
The journey to Haridwar from Delhi can be done in about 5-6 hours. The most popular route is the NH-334 which runs parallel to the Ganges. You can take a bus from Delhi or you can also take a train from New Delhi. Both options will cost around Rs. 2000-2500 per person.
How much does the Hemkund Sahib Trek cost?
The Hemkund Sahib Trek is a challenging trek that takes you through some of the most stunning scenery in Uttarakhand. The trip can cost anywhere from ₹12000 to ₹25000 per person, depending on the level of difficulty you choose.
The Hemkund Sahib Trek begins at Hemkunt Sahib, a sacred Sikh temple. From there, you'll hike through forests and over mountains to reach Kedarnath, one of the holiest Hindu temples in India. The trek is long but rewarding, and it's sure to leave you with memories that will last a lifetime.
Tips for a Successful Trip to Hemkund Sahib
If you're planning a trip to Hemkund Sahib, here are a few tips to make the experience as smooth and as rewarding as possible:
Arrive early - Hemkund Sahib is PACKED on weekdays and weekends, so getting there before the masses does your chances of finding a quiet spot a lot better.
Bring your own water - The water supply at Hemkund Sahib can be unpredictable, and it's not uncommon for it to be either too cold or hot to drink. Bringing your own bottle will help ensure you stay hydrated.
Respect the surroundings - While Hemkund Sahib may be one of the most sacred sites in India, please don't take it for granted and don't touch or disturb any of the religious artifacts or fabric sculptures located around the temple complex.
Be mindful of others - If you're traveling with others, it's important to remember that everyone is visiting this sacred site at their own pace and should be respected accordingly. If someone is in a hurry, it's best not to slow them down by walking in front of them or disrupting their prayer ritual.
How to Prepare for Your Trip to Hemkund Sahib
There is no one right way to prepare for a pilgrimage to Hemkund Sahib, but following some tips can help ensure a safe and enjoyable trip.
1. Book your tickets well in advance. The shrine is busiest during the month of January, when devotees from all over India come to offer prayers and seek blessings.
2. Make sure you have all the necessary documents with you: a passport, visa, and registration certificate for your home country (if applicable).
3. Bring plenty of water and snacks with you on the journey. Hemkund Sahib is a long walk uphill, so make sure to stay hydrated!
4. Dress appropriately for the weather. In warm weather, bring a sunscreen, hats, and sunglasses; in cool weather layers are recommended.
5. Be respectful of the local culture and customs. Don't take pictures of people without their permission or disturb religious ceremonies or rituals.
Conclusion
Hemkund Sahib Trek is a great option if you want to explore the beautiful Hemkund Sahib Gurudwara and the surrounding areas. The trek is easy to follow and takes about 8-10 hours to complete.
If you are looking for an adventure that will leave you feeling refreshed and invigorated, then the Hemkund Sahib Trek is the perfect option for you. Not only will you be able to explore some of Uttarakhand's most beautiful areas, but you will also gain a better understanding of Sikh history and spirituality.
Program
( 7 days / 6 nights )
FREQUENTLY ASKED QUESTIONS
INCLUSIONS/EXCLUSIONS
Breakfast
Transportation
Stay
TERMS AND CONDITIONS
CANCELLATION AND REFUND:
Cancellations prior to 10 days from the start of the trek are entitled to a full refund(excluding the transaction charges)Cancellation between the 9th day and the 3rd day to the start of the trek will have an 80% refund. Cancellation less than 3 days to the start of the trek will have NO refund. For any assistance mail us at: info@indian-tours.in

DISCLAIMER:

This activity is hugely dependent upon weather. The trip may get canceled without any prior notice due to weather or any unforeseen adverse circumstances
GALLERY / PHOTOS