Harihar Fort Trek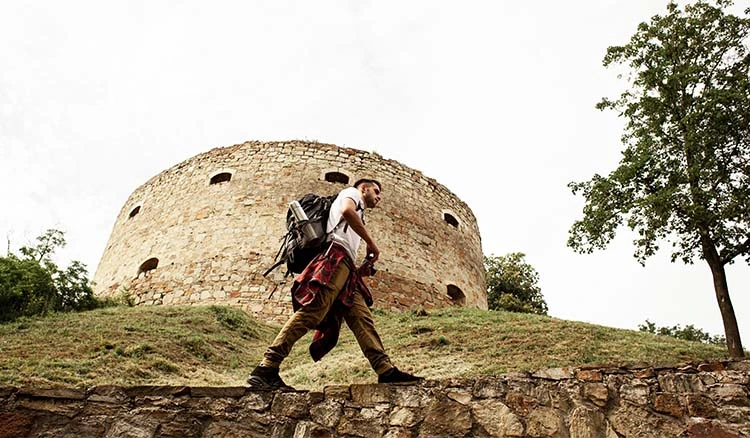 India is known for its amazing diversity of culture and both the North and South have their own specialties. For those seeking a new experience or just seeking an excuse to spend the weekend outside the city, Harihar Fort Trek is an amazing destination. Located in Nashik, this trek will take you on a journey through the rocky mountains and high plateaus of Maharashtra. With stunning views, cool weather, and plenty of activities to do along the way!
History of Harihar Fort
Harihar Fort located about 40 kilometers from Nashik, 48 kilometers from Igatpuri and approximately 40 kilometers from Ghoti in Nashik district of Maharashtra in India. It is important for trade routes connecting traders in Gonda ghat, as it was constructed to look over the road. Harihar fort receives many visitors because of its peculiar rock-cut steps.
In 1818, during the British Raj, Harihar Fort was taken by the East India Company's troops under the command of Colonel James Grant. Today it is a protected monument administered by the Archaeological Survey of India.
Harihar Fort is one of Maharashtra's most popular tourist destinations, attracting visitors for its scenic location, historical significance and extensive archaeological sites.
Harihar Fort trek Nashik offers an excellent opportunity to explore one of Maharashtra's oldest hill forts as well as enjoy some splendid views at different points across Nashik valley while.
Harihar Fort Information
There are two base villages of the fort, Harshewadi and Nirgudpada. The Harshewadi is 13 kilometres from Trymbakeshwar. The other base village of the fort is Nirgudpada/Kotamvadi which lies at a distance of 40 kilometres from Ghoti and 121 kilometres from Mumbai. One can travel from Ghoti to Trimbakeshwar by bus or by private vehicle; a car ride will take no more than one hour. From Ghoti, a last bus leaves at 5:30pm to go back to only Ghoti but there also buses going to Nashik.
Things to do near Harihar fort
If you are looking for some activities to do in Nashik, then you should definitely check out the Harihar fort. This fort was built in the 16th century and is considered to be one of the most important archaeological sites in Maharashtra. Not only is this fort beautiful, but it also has a lot of attractions inside that you won't want to miss. Here are some of the things you can do nearby the Harihar fort:
Visit Trimbakeshwar temple, one of the most popular Hindu temples in Nashik. It's located about 14 km from the fort.
Take a walk or a ride on the river Vaitarna falls, located about 17 km from the fort.
Check out Durgawadi waterfall, another popular spot close to the fort.
Walk around the fort grounds and take in all of its beauty
Visit the archery range located within the fort
View artwork in the museum located within the fort
Take a guided tour of the fort's interio
How to reach:
Harihar fort is located in Nashik district of Maharashtra. Harihar fort is accessible by air, train and road.
Air:

If we see distance wise, then Ozar airport near Nashik is the closest airport to the fort. In contrast, there are fewer flights at Ozar airport than Mumbai international airport.
Train:
The nearest railway station to Harihar fort is Nashik Junction which is around 45 kilometers away. There are frequent trains to Nashik Junction from Mumbai, Nagpur, Pune and other cities in Maharashtra and adjoining states.
Road:
You can reach here via taking a bus to Trimbakeshwar from anywhere in the Maharashtra, and alight at Nirgudpada. There is a left turn 4 km before Trimbakeshwar that goes towards Khodala. Nirgudpada is the base village for Harihar fort trek. It's 45 km away from Nashik.

Harihar fort, located in Nashik district of Maharashtra, is one of the most visited tourist destinations in the state. The fort is well-maintained and has pleasant architecture. It is a perfect destination for a day trip from Mumbai.
Best time to visit:
The best time to visit Harihar fort is during March to June, when the temperature is moderate and there are few crowds. January and February are also good months to visit, as the temperature is mild and the crowds are lesser.
Things to carry:
When visiting Harihar fort in Nashik, it is important to be well-equipped with the right items to take with you. Here are a few items you should always carry with you when visiting a fort:
ID proof
Proper face mask or shield
Sanitizer
Good grip shoes.
Torch with extra batteries.
Extra Pair of clothes.
Water bottles 2-3 liters.
Sunscreen
Hat
Camera
Snacks
Water bottle
Lunch
Please wear Full sleeves and Full Track Pant this will protect from Summer Sun / Thorns / Insects / Prickles
Conclusion
If you're looking for a challenging trek that will leave you feeling proud of yourself, then the Harihar Fort Trek should be at the top of your list. This trip takes you to one of the most impressive fortresses in India, and while it's not an easy hike, it is definitely one that is well worth undertaking. If you're interested in taking this trip, be sure to book your reservation as soon as possible!
Program
( 01 days / 01 nights )
FREQUENTLY ASKED QUESTIONS
INCLUSIONS/EXCLUSIONS
Meals
Morning Breakfast & Tea
Lunch
Transfers
TERMS AND CONDITIONS
CANCELLATION AND REFUND:
Cancellations prior to 10 days from the start of the trek are entitled to a full refund(excluding the transaction charges)Cancellation between the 9th day and the 3rd day to the start of the trek will have an 80% refund. Cancellation less than 3 days to the start of the trek will have NO refund. For any assistance mail us at: info@indian-tours.in

DISCLAIMER:

This activity is hugely dependent upon weather. The trip may get canceled without any prior notice due to weather or any unforeseen adverse circumstances
GALLERY / PHOTOS