7 Days Nepal Tour Package with Chitwan National Park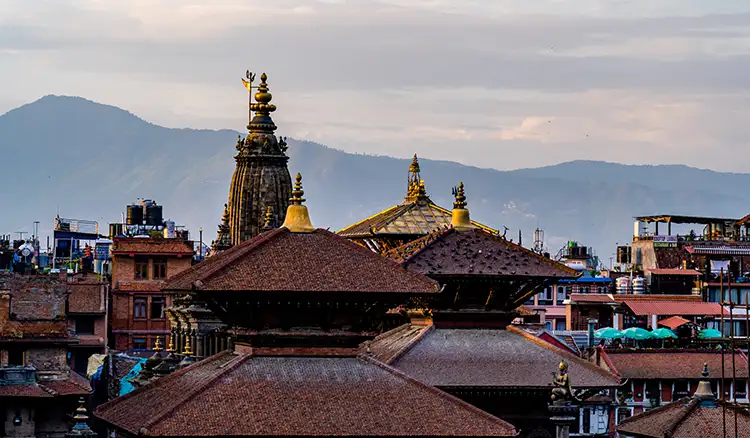 7 Days Nepal Tour Package with Chitwan National Park Overview
Looking for an adventure-filled vacation in Nepal? Look no further than Indian Tours' Nepal Tour Package, which includes a visit to the stunning Chitwan National Park.
Chitwan National Park is a UNESCO World Heritage Site and home to a variety of exotic wildlife, including Bengal tigers, one-horned rhinoceroses, and Asian elephants. With our tour package, you'll have the opportunity to explore the park on foot or by jeep safari, getting up close and personal with these majestic creatures.
In addition to the national park, our Nepal Tour Package also includes visits to other must-see destinations, such as Kathmandu, Pokhara, and the scenic Annapurna mountain range. You'll have the chance to immerse yourself in Nepalese culture, sample delicious local cuisine, and take in breathtaking views at every turn.
At Indian Tours, we pride ourselves on providing exceptional service and creating unforgettable travel experiences for our clients. Our Nepal Tour Package is no exception. With comfortable accommodations, knowledgeable guides, and a carefully crafted itinerary, we'll take care of all the details so you can sit back, relax, and enjoy the adventure of a lifetime.
Don't miss out on this incredible opportunity to explore Nepal and Chitwan National Park with Indian Tours. Book your tour package today and get ready for an unforgettable adventure.
7 Days Nepal Tour Package with Chitwan National Park Highlights
7-day tour package in Nepal
Visit to Chitwan National Park, a UNESCO World Heritage Site
Opportunity to see Bengal tigers, one-horned rhinoceroses, and Asian elephants
Explore the national park on foot or by jeep safari
Visit to Kathmandu, the capital city of Nepal
Visit to Pokhara, a scenic city surrounded by the Annapurna mountain range
Opportunity to immerse in Nepalese culture and sample local cuisine
Comfortable accommodations and knowledgeable guides provided by Indian Tours.
Quick info
| | |
| --- | --- |
| Duration | 7 days |
| Destination | Nepal |
| Highlight | Chitwan National Park, Bengal tigers, one-horned rhinoceroses, and Asian elephants |
| Activities | Jeep Safari, Walking Tour |
| Other Destinations | Kathmandu, Pokhara, Annapurna mountain range |
| Cultural Experience | Immersion in Nepalese culture and local cuisine |
| Service Provider | Indian Tours |
| Accommodation | Comfortable accommodations provided by Indian Tours |
Destination info
Official Name: Nepal
Time Zone: GMT +5:45 hours
Plug Type: C, D & M
Currency: Nepalese Rupee
How to reach
The most convenient way to reach Kathmandu is by air, with direct flights operating regularly from Indian cities like Delhi and Kolkata. The flight takes approximately 1.5 hours to reach the Tribhuvan International Airport, located just 6 km away from the city center.
There is only one direct train from India to Nepal that starts from Jainagar in Bihar and reaches Janakpur in Nepal. From there, one can travel by road to reach Kathmandu. However, it is better to take a train to Gorakhpur or Raxaul, which are well-connected to major Indian cities, and then take a cab or bus to reach Kathmandu.
Road travel is an economical and scenic option to reach Nepal, with six border crossings with India. The Sunauli border near Bhairahawa is the most convenient crossing point for those coming from Delhi or Varanasi. Daily direct air-conditioned buses are available from both cities, as well as private cars for hire. The Raxaul border, accessible from Patna, and Panitanki border, accessible from West Bengal, are other popular crossings.
Know Before You Go for 7 Days Nepal Tour Package with Chitwan National Park
The cost of international flight tickets is not included in the package.
The price of the visa is not included in the package.
Prices may vary based on the availability of hotel rooms, especially during peak season and on blackout dates.
Travel insurance is not included in the package but is highly recommended.
Meals that are not mentioned in the itinerary are not included in the package.
It is mandatory to provide ID proof for each guest at the time of booking and upon arrival. PAN card will not be accepted as a valid address proof.
Appropriate attire is expected, especially while visiting religious sites.
State-government guidelines must be followed, including social distancing and frequent hand sanitization.
It is recommended to depart at the suggested timings to avoid inconvenience.
In case of any amendment in the package due to an increase in the number of guests, the client will bear the difference in the cost.
Indian Tours reserves the right to rearrange the itinerary due to any kind of disturbance, without compromising any service or changing the total number of days.
Any breakage or damage of hotel items will be charged at actual cost.
Program
( 07 days / 06 nights )
Day1

Arrival in Kathmandu

After arriving at the Tribhuvan International Airport in Kathmandu, complete the immigration process at the airport. Our local representative will be there to assist you in your transfer to the hotel. Complete the check-in formalities and take some rest. You can spend the rest of the day at your leisure exploring Kathmandu, the political capital and cultural center of Nepal.
Enjoy an overnight stay at the hotel in Kathmandu.

Day2

Sightseeing in Kathmandu | Explore 4 UNESCO World Heritage Sites

After breakfast in the morning, get ready to explore Kathmandu. Your first stop will be at the Pashupatinath temple, one of the most revered Hindu pilgrimage sites where you can witness holy sadhus praying and cremations taking place along the Bagmati river. Next, you will visit the Boudhanath Stupa, the holiest shrine for the Buddhist culture in Nepal, where thousands of pilgrims from different religions come to perform a ritualistic circumnavigation. From there, head to Patan, also known as Lalitpur, which is the second-largest town in the valley, separated from Kathmandu by the Bagmati River. Here, you can visit Patan's central Durbar Square, which boasts a greater concentration of temples per square meter than in Kathmandu or Bhaktapur, as well as the Royal Palace, Krishna Mandir, and some beautiful Buddhist monuments. After exploring Patan, proceed to Swayambhunath, also known as the Monkey Temple, where the golden spire of the 5th-century Swayambhu stupa is adorned with colorful prayer flags. It is one of the most recognizable symbols in Nepal, with the painted eyes of Buddha watching all who ascend the worn stone steps, offering fantastic views over the Kathmandu Valley.
Return back to the hotel for an overnight stay in Kathmandu.

Day3

Transfer to Pokhara | En route visit Manakamana Temple

Following breakfast at your hotel in Kathmandu, you will embark on a transfer to Pokhara. The drive to Pokhara is approximately 210 kilometers from Kathmandu, and you can expect to arrive after about 6.5 hours. On the way, you may visit the Manakamana temple, also known as the wish-fulfilling goddess, and take a short cable car ride up to the hilltop temple. Upon reaching Pokhara, complete your check-in formalities at the hotel and enjoy the rest of the day at your leisure. Overnight stay at your hotel in Pokhara.

Day4

Sightseeing in Pokhara

After enjoying breakfast in the hotel at Pokhara, get ready to explore this beautiful city. Start your day by visiting the picturesque Phewa Lake, which is surrounded by the snow-capped peaks of the Annapurna range. You can also take a boat ride (at your own cost) to reach the Barahi Temple located on an island in the middle of the lake. Next, visit the Bindabasini Temple, the oldest temple in the Pokhara Valley, dedicated to the Hindu goddess Durga, who is also the guardian deity of Pokhara. Afterward, visit Devi's Falls, also known as Patale Chango, which is an underground waterfall that creates a 500 feet long tunnel to reach its bottom. The downstream of Devi's waterfall leads to the holy Gupteshwar Cave, which houses a Shiv Lingam inside. As you walk through the cave, admire the beautiful rock formations inside and feel a sense of peace. Spend the rest of the evening by the lake, explore the local markets, and try some delicious local food. The stunning landscape of the Annapurna and Machhapuchhre mountain range might tempt you to stay longer in Nepal. Return to your hotel in Pokhara for an overnight stay.

Day5

Transfer to Chitwan | Drive through the 1st National Park of Nepal

After breakfast at the hotel, gear up for a day filled with exciting activities in Chitwan National Park. Start the day with an elephant back safari to explore the jungles of Chitwan. This is a great way to spot the amazing wildlife in the park. You can expect to see rhinos, deer, monkeys, wild boar, and maybe even a Bengal tiger if you are lucky. Later, you can visit the elephant breeding center and learn about these gentle giants while interacting with them. In the afternoon, embark on a jungle walk with an experienced guide to explore the flora and fauna of the park. You will have the opportunity to spot various bird species and other wildlife that you might have missed during the elephant safari. In the evening, enjoy a cultural performance by the local Tharu community, which includes traditional dance and music performances. Return back to the hotel in Chitwan for an overnight stay.

Day6

Jungle Activities in Chitwan National Park | Transfer to Kathmandu

Start your day with a refreshing breakfast at the hotel and prepare for an exciting day filled with jungle activities. You can opt for an adventurous jeep or elephant safari in the National Park at your own expense. Explore the exotic wildlife of Chitwan by taking nature walks, bird watching, or a boat ride through the forest. After completing your jungle activities, begin your journey back to Kathmandu. The distance between Chitwan and Kathmandu is around 170 km, and it takes approximately 5.5 hours to complete the journey. Once you arrive in Kathmandu, take some rest. If time permits, consider taking a short excursion to Bhaktapur, a city that still exudes a distinct medieval feel. Pottery and weaving remain traditional industries here even today. Bhaktapur also houses magnificent architectural wonders such as the 55 Windows Palace, Golden Gate, and the five-storied pagoda-style Nyatapola Temple. Return to the hotel for an overnight stay in Kathmandu later in the day.

Day7

Departure

After having breakfast at the hotel, prepare to say goodbye to the beautiful country of Nepal. You may have some free time to visit the Thamel market area for some last-minute shopping or to explore the streets of Kathmandu.
Later, you will be transferred to Tribhuvan International Airport for your onward journey, marking the end of your wonderful Nepal tour.
FREQUENTLY ASKED QUESTIONS
INCLUSIONS/EXCLUSIONS
Accommodation on double sharing basis with Breakfast
All sightseeing by private Cab, as per itinerary
02 airport transfers by Cab
All applicable taxes on accommodation
All toll taxes/driver's allowance/fuel charges etc.
TERMS AND CONDITIONS
CANCELLATION AND REFUND:
If cancellation are made 30 days before the date of travel then 25.0% of total tour cost will be charged as cancellation fees
If cancellation are made 15 days to 30 days before the date of travel then 50.0% of total tour cost will be charged as cancellation fees
If cancellation are made 0 days to 15 days before the date of travel then 100.0% of total tour cost will be charged as cancellation fees
GALLERY / PHOTOS