Kathmandu Tour Package From Delhi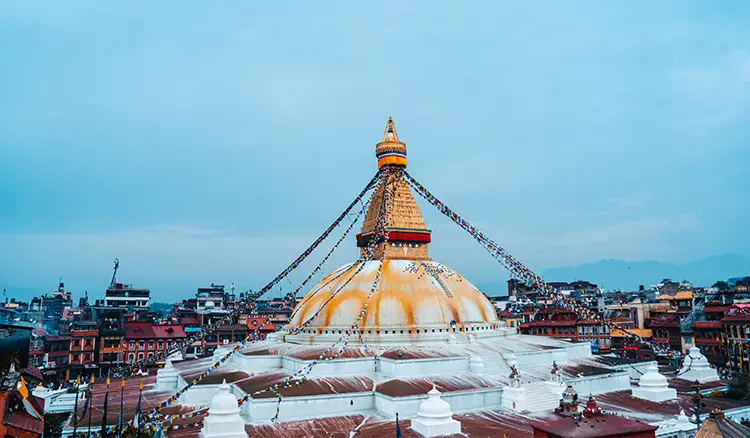 Kathmandu Tour Package From Delhi Highlights
Discover the timeless allure of Kathmandu, the capital city of Nepal, as you stroll through the charming alleyways and squares of the old city.

Pay homage to Lord Shiva at the stunning Pashupatinath temple, an exquisite Nepalese-style structure situated on the banks of the holy Bagmati river.

Step into a Bollywood movie scene at the grand Durbar Square, where the famous film 'Baby', starring Akshay Kumar, was shot.

Find inner tranquility as you relax and admire the clouds drifting past some of the world's highest peaks, including Mt. Everest, from the scenic vantage point of Nagarkot.

Experience the captivating beauty and rich cultural heritage of Bhaktapur, the finest medieval town in Nepal, also recognized as a UNESCO Heritage site.
Kathmandu Tour Package From Delhi Highlights
Looking for an unforgettable adventure to the enchanting city of Kathmandu from Delhi? Indian Tours has got you covered! Our Kathmandu Tour Package From Delhi offers an exciting and hassle-free way to explore the capital city of Nepal and its fascinating cultural treasures.
With our package, you'll get to visit the stunning Pashupatinath temple, an exquisite Nepalese-style structure built on the banks of the holy Bagmati river. You'll also have the chance to walk through the majestic Durbar Square, where famous Bollywood films like 'Baby' were shot.
For nature lovers, our package includes a trip to Nagarkot, a picturesque vantage point that offers breathtaking views of the world's highest peaks, including Mt. Everest. And no visit to Nepal is complete without exploring the captivating beauty and rich cultural heritage of Bhaktapur, recognized as a UNESCO Heritage site.
Our Kathmandu Tour Package From Delhi is designed to give you an unforgettable experience without the hassle of planning and organizing everything on your own. With Indian Tours, you can sit back, relax, and immerse yourself in the wonder and beauty of Nepal's capital city. Book your package now and let us take you on an adventure of a lifetime!
Quick info
| | |
| --- | --- |
| Package Name | Kathmandu Tour Package From Delhi |
| Tour Highlights | Pashupatinath temple, Durbar Square, Nagarkot, Bhaktapur |
| Inclusions | Accommodation, transportation, meals, sightseeing tours |
| Duration | 5 days and 4 nights |
| Price | Starting from INR 25,000 per person |
| Booking Information | Visit the Indian Tours website or call +91-9958308506 for bookings and inquiries. |
Destination info
Official Name: Nepal
Capital City: Kathmandu
Language: Nepali
Time Zone: GMT +5:45 hours
Plug Type: C, D & M (220-240V, 50Hz)
Currency: Nepalese Rupee (NPR)
How to reach?
By Air: The most convenient way to reach Kathmandu is by taking a direct flight from major Indian cities like Delhi and Kolkata. The flight takes around 1.5 hours to reach and lands at the Tribhuvan International Airport, which is only 6 km away from the city center.
By Rail: There is only one direct train from India to Nepal that starts from Jainagar (Bihar) to Janakpur in Nepal, from where travelers can further reach Kathmandu by road. The better option is to take a train to Gorakhpur or Raxaul, which are well-connected to other major Indian cities. From there, one can take a cab or bus to reach Kathmandu.
By Road: Road travel is an economical and scenic way to reach Nepal, with six border crossings with India. For those coming from Delhi or Varanasi, the most convenient crossing point is Sunauli, near Bhairahawa. There are daily direct air-conditioned buses available from both cities, as well as private cars for hire. Another popular crossing point is the Raxaul border, accessible from Patna, and the Panitanki border, accessible from West Bengal.
Know Before You Go for Kathmandu Tour Package From Delhi
Please depart on suggested timings to avoid any inconvenience.
Visa price is not included in the package
Travel insurance is not included in the package, however, recommended
Prices are subject to change based on the availability of hotel rooms, especially during peak season and on blackout dates.
Meals other than mentioned are considered excluded
ID proof is mandatory for each individual guest at the time of booking, and also upon arrival. PAN card will not be considered as a valid address proof.
You are expected to dress appropriately especially while visiting religious sites.
Guidelines issued by the State-Government is to be followed. Social distancing to be maintained. Frequent hand sanitization and use of mask recommended.
Rates may fluctuate with any change in services/hotels. The difference in the cost shall be borne by the client in case of any amendment in the package due to an increase in the number of guests.
Indian Tours reserves the right to rearrange the itinerary due to any kind of disturbance that occurred (i.e- natural calamity, blockade, flight/train cancellation, extreme shortage of commodities, political condition or any others) without changing the total number of days and without compromising any service
Any breakage or damage of any items in the hotels will be charged at actuals.
Program
( 04 days / 03 nights )
Day1

Arrival in Kathmandu

Upon arriving at the Tribhuvan International Airport in Kathmandu, complete the airport's immigration process. Our local representative will meet you and assist you in your transfer to the hotel. After completing the check-in formalities, take some rest before exploring Kathmandu - the cultural heart and political capital of Nepal. The rest of the day is free for leisure activities. Enjoy an overnight stay at your hotel in Kathmandu.

Day2

Sightseeing in Kathmandu

Post breakfast in the morning, and get ready to explore Kathmandu.
Start off by visiting one of the most revered Hindu pilgrimage sites - the Pashupatinath temple, where the holy sadhus pray and cremations take place along the Bagmati river.

You will then continue to the holiest shrine for the Buddhist culture in Nepal - the Boudhanath Stupa where thousands of pilgrims from different religions gather here daily to perform a ritualistic circumnavigation.
Then, you will be taken to Patan (earlier called Lalitpur) which is separated from Kathmandu only by the Bagmati River and is the second largest town in the valley.

Visit Patan's central Durbar Square which is an architectural center point with a far greater concentration of temples per sq. meter than in Kathamandu or Bhaktapur.

Within the city also lies the Tibetan refugee center, home to most of the valley's Tibetan population. While technically refugees, the Tibetans are some of the wealthiest people in the valley because of the carpet industry they operate. For those looking to bring home a fine Tibetan carpet, this is the place to shop.

You will then go to Swayambhunath the golden spire of the 5th-century Swayambhu stupa is adorned with a colorful fluttering of prayer flags; it crowns a hill overlooking the Kathmandu Valley and offers fantastic views over the city of Kathmandu. Swayambhunath is one of the most recognizable symbols in Nepal and the painted eyes of Buddha watch all who ascend the worn stone steps.

Return back to the hotel for an overnight stay in Kathmandu.

Day3

Drive to Nagarkot via Bhaktapur

After enjoying breakfast at your hotel in Kathmandu, begin your journey to Nagarkot, a beautiful hill station located about 32 km (approximately 1.5 hours) from Kathmandu. On the way, make a short stopover in Bhaktapur, a city that still exudes a distinct medieval charm. Here, you can witness traditional industries such as pottery and weaving, and explore the magnificent architectural wonders like the 55 Windows Palace, Golden Gate, and the five-storied pagoda-style Nyatapola Temple.

Later in the day, you will arrive in Nagarkot, which is renowned for offering panoramic views of the highest Himalayan ranges. Spend the evening soaking in the breathtaking views and enjoying the tranquility of the place. Overnight stay at the hotel in Nagarkot.

Day4

Departure

Rise and shine early in the morning to catch the breathtaking view of the sunrise and the gleaming Himalayan peaks as they illuminate in the sun's rays. Enjoy a hearty breakfast at the hotel before embarking on your return journey. Your unforgettable Nepal tour comes to an end as you are dropped off at the Tribhuvan International Airport for your onward journey.
FREQUENTLY ASKED QUESTIONS
INCLUSIONS/EXCLUSIONS
Double sharing accommodation with breakfast included
Round-trip flights from Delhi
Private cab transfers to and from Kathmandu/Nagarkot/Kathmandu
Private cab sightseeing tours as per the itinerary
Two airport transfers by cab
All applicable taxes on accommodation included
All charges related to toll taxes, driver's allowance, fuel charges, and more included
TERMS AND CONDITIONS
CANCELLATION AND REFUND:
If cancellation are made 30 days before the date of travel then 25.0% of total tour cost will be charged as cancellation fees
If cancellation are made 15 days to 30 days before the date of travel then 50.0% of total tour cost will be charged as cancellation fees
If cancellation are made 0 days to 15 days before the date of travel then 100.0% of total tour cost will be charged as cancellation fees
GALLERY / PHOTOS